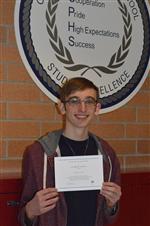 Jacob Coenen, a senior at Champlin Park High School, has been named a Finalist in the 2016 National Merit Scholarship Program.

The National Merit Scholarship Program is a nationwide competition for recognition and awards conducted by the National Merit Scholarship Corporation. In each annual program, approximately 50,000 academically talented high school students are honored, but only 15,000 of them are named "Finalists".

Jacob will be notified in the spring if he has been selected as one of the 7,400 Merit Scholarship winners. Congratulations Jacob!!!!! CPHS is VERY proud of you!