Welcome to Oxbow Creek, Where Kids are Wild About Learning!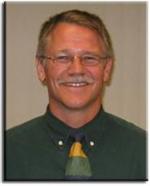 Hello, and welcome! My name is Rolf Carlsen and I am lucky to be the principal of Oxbow Creek Elementary School. Oxbow is located in a beautiful facility that opened in August of 2002. We are proud to be a Minnesota School of Excellence, as recognized by the Minnesota Elementary School Principals' Association. We currently enroll nearly 1,200 kindergarten through fifth-graders. We also house an English Language Learner program and a center-based Special Education program for students with autism.
Oxbow is a wonderful school community that is also part of the Anoka-Hennepin School District. Our district has five high schools, seven middle schools and 24 elementary schools, making us one of the largest districts in Minnesota with nearly 38,000 students! I encourage you to explore our website — or better yet — come and visit us in person sometime!
We Offer: Minnesota Reading Corps Tutors in K-3 • School Social Worker • Community Education Classes • Adventures Plus • Talent Development • Challenge Math • Challenge Reading • Destination Imagination • Stock Market Game • Music • Art • Physical Education • Special Education • Volunteering Opportunities