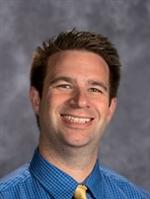 As principal of CRMS I am excited to be a part of the Coon Rapids Community, and I look forward to partnering with families to create a high quality educational experience for our students. I enjoy working with the talented staff at CRMS on creating a safe school environment that focuses on best teaching practices and meets the individual needs of students.
Having a positive middle school experience is closely connected to being involved in the school community. Please encourage your child to take advantage of the many opportunities that our school offers outside of the school day. CRMS offers many different programs for many different personalities, and our staff loves to see students show the talents that they bring to our school.
Lastly, we embrace the diversity of learners we have at Coon Rapids Middle School. We believe every student brings a unique story to our building that contributes to our learning community. It is our responsibility to create an environment in which your child can develop socially and academically, and we look forward to working with you to help your student have a tremendous middle school experience.
Sincerely,
Tom Shaw
Principal
Coon Rapids Middle School