What is the Falcon Nest?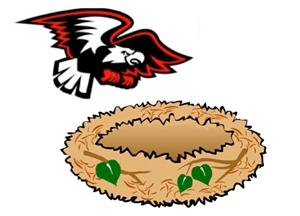 "The Falcon Nest" is an in-school resource to help CRMS students and families in economic distress. We provide paper items, school supplies, food, and personal hygiene products. If you are in need of these items or would like to donate, please call Mrs. Lisa Tauer, Student Advisor at (763) 506-4991.
Updated 10/18/16: These items are needed for donations- macaroni and cheese, canned spaghetti sauce, boxed spaghetti, cereals, granola bars, canned fruit, laundry detergent (small bottles), shampoo/conditioner, men and women's deodorants. Items can be dropped off in Mrs. Tauer's office or the Main Office for the Falcon Nest.


Additional help for students and families
Free or reduced price lunch: If you would like to determine if your child is eligible for free/reduced lunches, or if you have further questions, please call the Child Nutrition Office at Coon Rapids Middle School (506-4800).
Resources for Anoka County residents
Listed below are some resources that are available to Anoka County residents.
You may also want to contact Mrs. Lisa Tauer at 763-506-4991 to inquire about community assistance:
Holiday help
Christmas Committee: Families and individuals in need who live in the cities of Anoka County are eligible for help with holiday gifts. Application forms are available on Nov. 1. Application forms must be mailed in by November 25. You may pick up an application at the ACBC Food Shelf in Anoka- 2615 9th Ave. Applications are also available online.

Many local churches also provide holiday assistance.


Food and clothing
ACBC Emergency Food Shelf: 2615 9th Ave., Anoka

Anoka County Community Health and Environmental Services: 763-422-7055
Fare for All: 763-450-3880
SACA-Food Shelf serving southern Anoka County: 763-789-2444


Emergency Food Shelf Network: 763-450-3860