Adventures Plus school-age care
Adventures Plus is the Anoka-Hennepin School District's school-age care program, offered to all families in the school district and provided at each elementary school. Care is available before- and after-school, and on school release days which include winter, spring and summer breaks.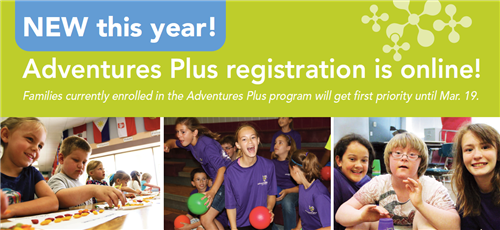 Summer 2017 and 2017-18 school year
Families currently using Adventures Plus care will have priority registration for summer 2017 and the 2017-18 school year. Current families will receive renewal information the week of February 27 at their site.

Registration will be completed online for the first time this year.
Current families will be able to register beginning March 6.

New families may complete a registration request beginning March 20. Many sites are at capacity and students may be placed on a waiting list.
Families currently enrolled in the program will receive priority registration for Adventures Plus summer 2017 and the 2017-18 school year.
The new online registration system is connected to the Anoka-Hennepin Schools FeePay meal and activities account. If you already have a meal or activity account, you will not need to set up an account.

About the program
The Adventures Plus program aims to develop the whole child by providing age-appropriate learning experiences and opportunities using a theme-based curriculum with activities that include:
Arts, crafts, dance/movement and drama
Literature and music

Sports
Cooking
Science discovery
Sensory and outdoor play
Small- and large-group activities
Field trips
Opportunities for homework assistance
Care options

A variety of flexible care options are available to meet your families needs.
School year care: Before- and/or after-school, from 6:30 a.m. until the school start time and from school dismissal time until 6 p.m.

School release days: Child care is available for school-age children on most days that school is not in session, including winter and spring breaks, from 6:30 a.m. - 6 p.m.

Summer care: All-day care is available at select school sites for students entering kindergarten, elementary and middle school, from 6:30 a.m. - 6 p.m.

How to apply
Adventures Plus is a popular service and child care openings fill quickly. Pre-registration for the school year program occurs each March. The program accepts registrations throughout the year and children may be enrolled as openings become available. New families may call the Adventures Plus office for an application and enrollment information.

A two-week notice may be required before your child attends the program. Enrollment forms must be completed and returned to the Adventures Plus office before your child's first day of attendance. The safety of your child is important to our staff, please provide at least two emergency contact persons. It is extremely important to keep your forms up-to-date. If you change your job, move or change your telephone number, please inform the Adventures Plus site and billing office by completing a change of information form.