Return to Headlines
Car donations help district students interested in auto careers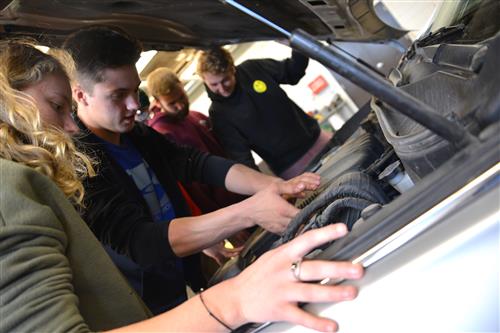 (09/27/19) In June, Anoka High School (AHS) and its technical education program received a unique gift: a 2012 Hyundai Sonata.

The car, which was donated by Luther North Country Ford in Coon Rapids, will allow students in automotive classes at AHS to learn about the automotive industry by working and learning with a new car with current technology, which is important for their education, according to Jessica Lipa, who is director of Anoka-Hennepin's career and technical education, as well as the district's Secondary Technical Education Program (STEP).

"Donations like this are really important for our schools and our students," Lipa said. "Without donations like this, it would be hard for us to offer the kind of programming where kids can learn while working with a new car with new technology. So this is just wonderful."

Before the donation, AHS automotive teacher Dean Joslin said his students were working on vehicles that were loaned to the school by Anoka Technical College.

"It was generous that they'd lend us vehicles, but the biggest thing is this is ours now," he said. "Now we can do a brake job, and we know it'll be staying here. We can make plans knowing we'll have a car here."

Thankfully, Lipa said, Anoka-Hennepin is fortunate. All five traditional high schools, as well as the district's STEP program, are members of a regional automotive advisory board that consists of school technical education leaders, as well as industry and business leaders.

"The board provides us with guidance on everything from our curriculum to how to maintain industry standards," she said. "So when a student leaves our program, we know they're entering the field equipped with the skills and knowledge they need."

Importantly, the businesses on the board understand that, in order to educate students and give them the skills needed in the modern automotive industry, they may need to help out with equipment and supplies.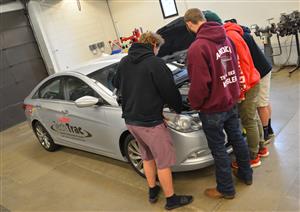 "The advisory board also helps our schools fill in gaps, so if a school says they don't have a vehicle that meets the needs of the curriculum, our business and industry partners find a way to help," Lipa said.

It's for the reason that AHS isn't alone. Andover, Blaine, Coon Rapids and Champlin Park high schools, and the STEP program, all have relatively new vehicles that students are using as part of their automotive education.

"Thanks to our business and industry partners we get new, donated cars every couple of years. So we're fortunate," Lipa said.

Luther is on the advisory board, Joslin said, the vehicle donation is part of a larger effort the auto dealer implemented last year called Tech Trac. Like an internship, Luther brings on high school graduates, buys them the tools they'll need and pays $2,000 a year toward a student's two-year automotive education, all with the idea that participants will stay on to work with the company and their dealership when their education is complete.

"(Luther) really supports high school kids once they graduate and supports their education and career," Joslin said. "This car donation is just part of their support for students. It's pretty impressive."

The donated cars, meanwhile — they take a beating, but all for a good cause, according to Lipa. Every trimester, and every year, students essentially disassemble the cars, learn about the parts and components, and then reassemble them.

For more information about Anoka-Hennepin's technical education automotive programming, contact a high school technical education teacher.