Return to Headlines
School Board approves phase 2 bond funding for Fit for the Future projects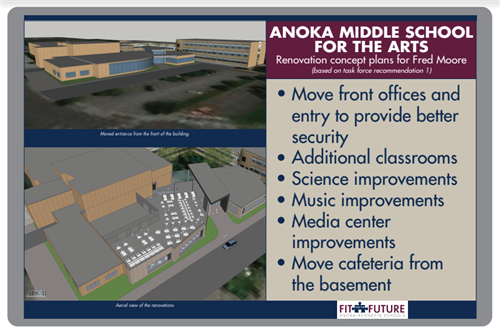 (04/08/20) Anoka-Hennepin's School Board approved the sale of $93.3 million in general obligation bonds during its March 30 meeting. The bonds will provide the funding for the second phase of building projects that are part of the district's Fit for the Future referendum and facility improvement plan approved by voters in November 2017.
Chief Financial Officer Michelle Vargas, and Kelly Smith, who is director of Baker Tilly Municipal Advisors, LLC, presented the bond sale to the School Board. In all, three bids were received, but Wells Fargo Bank submitted the winning proposal with a true interest cost of 2.796 percent.
Over the past few weeks, with the market uncertainty due to the COVID-19 pandemic, Smith said interest rates had been fluctuating wildly, with a peak just a week prior of more than 4.1 percent. "It was a nice recovery from where markets had been a week ago," Smith said.
Vargas said she was thankful for Smith and Baker Tilly for working with the district so closely during the turbulent market swings. "They rode this roller coaster with me the last couple of weeks, and I really appreciate their support," she said.
Phase two of the district's Fit for the Future referendum and facility improvement plan include major projects at a number of schools, which will be done for the start of the 2021-22 school year:
Anoka Middle School for the Arts will see work at both campuses. At Washington, a classroom addition will be constructed, and the school's gym and cafeteria will be expanded. Fred Moore will also have a classroom addition and cafeteria expansion, as well as the main office and front entry moved to improve facility safety

At Champlin Brooklyn Park Academy (CBPA), a large classroom addition will be constructed, as well as an expansion to the school's media center, cafeteria, and gym. This expansion will allow Jackson Middle School to reclaim a number of classrooms that CBPA has been using.

River Trail Learning Center at L.O. Jacob will see a classroom addition constructed, as well as a number of special education improvements.

During phase two, Andover High School will see improvements and expansions made to the gymnasium and fitness spaces.

Blaine High School will see an expansion of the fieldhouse and fitness areas, as well as the construction of a new front entry and main office area.

Coon Rapids High School will see the link to the fieldhouse side of the school completed, as well as a new fitness center, a new music room, and the remodel of several classrooms.
All district schools will also see a number of science, media center, and special education improvements by the end of the 2022-23 school year as part of the Fit for the Future plan.

For project updates and additional photos please visit ahschools.us/FitForTheFuture.