Return to Headlines
Two Anoka-Hennepin educators named semifinalists for Minnesota Teacher of the Year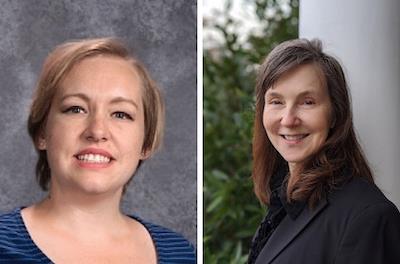 (02/26/20) Of the seven Anoka-Hennepin educators named candidates for the 2020 Minnesota Teacher of the Year award, two have been named semifinalists.
Anoka-Hennepin Technical High School work experience coordinator Patricia Halsey, and Adult Basic Education math teacher Amber Delliger are among the 36 semifinalists for the award.

For Halsey, being named a semifinalist shines a light upon the hard work of all Anoka-Hennepin staff members — not just her. "I am deeply honored to know that students, parents, staff, and members of the community felt me worthy for the 2020 Minnesota Teacher of the Year program," she said. "But because receiving honors and awards are so rare, this recognition belongs to all of us educating our students in Anoka-Hennepin."

Delliger said she was surprised when she heard the news. "I am honestly humbled and honored to represent the amazing Anoka-Hennepin (adult basic education) teachers, staff, and learners," she said. "I have the best job in the world and I am excited to go to work every single day."

In January, it was announced that seven Anoka-Hennepin teachers were among the 134 state-wide candidates for the award, which is organized by Education Minnesota, a 70,000-member educators union. Candidates include pre-kindergarten through 12th-grade and Adult Basic Education teachers, from public and private schools.

In the coming weeks, a panel will re-review all the semifinalists' portfolios and review semifinalist video submissions. Among that group, the panel will select approximately 10 finalists, and on May 3, current Minnesota Teacher of the Year, Jessica Davis, will announce her successor at a banquet at the Saint Paul RiverCentre.

In addition to Halsey and Delliger, this year's other candidates for the award included:
Heather Birklid, seventh-grade science, Anoka Middle School for the Arts.
Teresa Dwyer, fifth-grade, Rum River Elementary School.
Stephanie Gwin, eighth-grade English, Jackson Middle School - A Specialty School for Math and Science.
Amy Quinn, media specialist, Lincoln Elementary School for the Arts.
Andrea Whitcomb, music, Lincoln Elementary School for the Arts.
Last year, Blaine High School (BHS) science teacher Timothy Riordan was one of nine finalists for the award.

Read more about the award, or see the state-wide list of semifinalists at the Education Minnesota website.