Return to Headlines
Anoka-Hennepin piloting two leadership/character development programs at elementary school level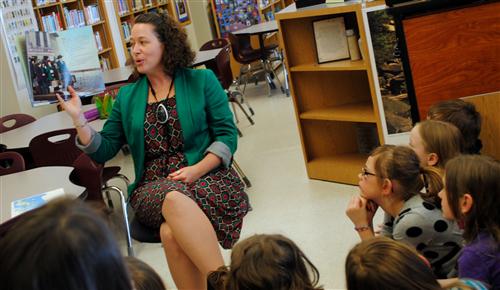 (02/08/19) Anoka-Hennepin has always taken character-building, leadership development and other social and emotional learning programs seriously.

Over the years, the district has offered a number of different programs at both the elementary and secondary levels, from things like Character Education, to DARE and Choices Today, which are offered by local law enforcement agencies, to Lions Quest, a Lions Club International program.

"We want students to be successful, and that's not just from an academic standpoint," said Dr. Mary Wolverton, Anoka-Hennepin's associate superintendent for elementary education. (File photo.)

This year Anoka-Hennepin is looking at social and emotional learning a little differently. For the first time, the district is piloting two different social and emotional learning programs at the elementary level with the ultimate goal being to offer a consistent program and curriculum for all students at all schools.

One of the programs is called The Leader in Me and is being piloted at University Avenue Elementary School for Aerospace, Children's Engineering, and Science (UAE), in Blaine.

According to Principal Diedre Bloemers, the school's entire staff is engaged in the implementation of the program, with classroom teachers providing specific, age-appropriate lessons integrating habits found in the book The 7 Habits of Highly Effective People, written by Stephen Covey. Things like being proactive (bring home my take-home folder every day), or first things first (do my homework before I go out and play), among others.

"Fundamentally, we believe every student is a leader. Every one," Bloemers, said. "And that's a profound paradigm shift, to go from merely thinking some students might be leadership material to believing every student is a leader."

And at UAE, thanks to The Leader in Me pilot, every student now has some kind of leadership responsibility while at school, from a leadership job of some kind, to being a leader on a team.

"These are life lessons — teaching kids how to set personal goals, work well with others and collaborate," she said. "When we talk about social and emotional learning for kids, we talk about developing the whole child. These are life skills students will carry with them into adulthood."

And the entire school is buying in, Bloemers said. Last summer, before school started, more than 80 percent of UAE staff attended the optional The Leader in Me Institute to kick off the pilot, and once school began, more than 700 people attended the school's family kickoff event, which was double the expected attendance.

"It's been a transformational process," Bloemers said. "For families, staff and students. It's been amazing."

Meanwhile, the other program is called Second Step and is being piloted for a second year at Wilson Elementary School in Anoka. The curriculum had actually been utilized by school social workers across the district for more than a decade, but Wilson Principal Christopher Forrest said teachers at his school really felt they wanted all students at the school to have access to it.

Specifically, Second Step has been shown to decrease problem behaviors, and is designed to promote school success, self-regulation, and a sense of safety and support, Forrest said.

"Our classroom teachers deliver 30-minute lessons once a week around skills for learning, showing empathy, how to calm/self-regulate emotions and problem solving are skills that all students need," Forrest said.

And the results thus far are promising. Forrest said students seem to be using the language, strategies and skills they're learning through instruction and practice.

"While reflecting on behavior data, we've had a significant decrease in behavior referrals after implementing Second Step," he said.

An added benefit is students enjoy the curriculum and lessons, and staff appreciate it, too.

"My favorite part of Second Step is that our staff has a resource to directly teach our students important life skills," Forrest said. "If students don't have skills for learning or how to regulate emotions and problem solve, then they are not able to be do their best academic work in the classroom. I believe in teaching the whole child and giving students' skills that will prepare them for their current reality and for the future."

The two pilot programs align with Anoka-Hennepin's Multi-Tiered Systems of Support (MTSS), which is one of the School Board's strategic priorities. It also parallels the Minnesota Department of Education's (MDE) social and emotional learning competencies.

Specifically, the MDE finds those five competencies (self-awareness, self-management, social awareness, relationship skills, and responsible decision-making) as important for students to possess, Wolverton said. Meanwhile, the district's MTSS leadership team has prioritized social-emotional learning as a high priority as well.

"We are really looking at programs and resources to develop all students to succeed academically and socially, and in a way that aligns to 21st century skills," Wolverton said.

There are other benefits, too. Wolverton said research has shown intentional social and emotional learning development leads to increased academic achievement, and decreases in student conduct problems and student emotional distress.

"Leadership skills like these are the kind of things companies tell us they're looking for from our graduates," Wolverton said. "So this is exactly the kind of thing that will prepare our students for life."