Return to Headlines
Ninth grade students return to the hybrid learning model
(02/12/2021) On Feb. 9, ninth grade students returned to school buildings across the district in the hybrid learning model. Middle and high school students began the 2020-21 school year in the hybrid model before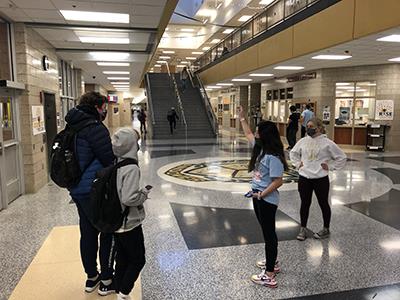 transitioning to distance learning Nov. 4.
The return of ninth grade students followed sixth grade students who returned to the hybrid model Feb. 2. Students in grades seven, eight, 10, 11 and 12 will return to school buildings in the hybrid model Feb. 16.
There was excitement in the air as hallways that have been quiet since Nov. 4 were filled with the squeaking of snow-covered shoes and students catching up with classmates they haven't seen in months.
At Andover High School (AndHS), students were welcomed with a decorated building and seniors involved in National Honor Society and student council who were present to help freshmen find their way around the school that they spent just weeks in at the beginning of the year.
Sofie Sherburne, a senior and student council president at AndHS, said she wanted the day to feel like a celebration for the ninth graders.
"The ninth graders haven't had quite the start they wanted to high school," Sherburne said. "We were determined to do something fun for them and make sure that they were able to find their classes and that they were excited to be back."
Sherburne added that it was great to see students reuniting with their friends and it made her excited for when seniors return to the hybrid learning model next week.
A tradition at AndHS, the student council will decorate the building on the first day of school each year, and for other special occasions throughout the year. For senior and National Honor Society president, Ashley Gustafson, it was important to help provide a festive atmosphere in the building as students returned.
"It feels nice," Gustafson said about seeing her classmates in the building again. "I haven't been able to see anyone in forever and I know everyone else is excited to return."
View photos of students returning to buildings Feb. 9.
For additional resources, including answers to frequently asked questions, visit ahschools.us/covid-19.