Return to Headlines
App helps students and families collaborate and connect beyond the classroom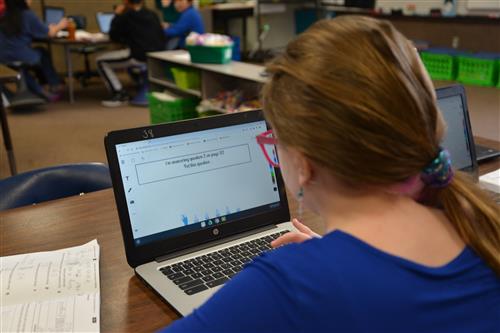 (12/05/19) For ages, teachers have been looking for new and convenient ways to connect parents and guardians with what's happening in students' classroom.

That's why this year, Anoka-Hennepin's elementary schools have been informally trying out an app called Seesaw, which does just that.

For Dr. Amy Reed, principal at Ramsey Elementary School, Seesaw has been eye-opening, and her teachers have really only been using it since the start of the school year.

"Each student has a kind of online learning portfolio, and that portfolio allows for student collaboration and also family engagement at home," said Reed. "So the whole overarching thing is that it allows for teachers and students and families to connect, engage and communicate in real-time."

Basically, Seesaw creates a learning loop between students, teachers, and families. A student will create something in Seesaw — a drawing, or a video, or something that demonstrates their knowledge in a subject area. A teacher can then comment on their work and provide feedback. And finally, parents and guardians can log in to their child's learning portfolio, see what they've created and the teacher's comments, and also leave comments of their own. It allows all three to engage with one another in a new and unique way.

"It's exciting," Reed said, who is also familiar with the app from a parent's perspective, thanks to her own children having used it in their classrooms last school year. "It offers a window into the classroom that parents and guardians wouldn't otherwise have. It's a great way to see what their students are doing and engage with them and their teachers in a meaningful way."

All parents and guardians need to do is download the free Seesaw app when prompted by a teacher, and from there, that teacher will send out a notification inviting families to see their student's work and read the comments about it whenever something new is added.

For Julie Danielowski, a fourth-grade teacher at Ramsey, Seesaw has been popular with students because of how they engage with it. See photos of students using Seesaw in Danielowski's classroom.

"So, I like to tell students that they're kind of like YouTubers," she said. "Their Seesaw portfolio — it's like their YouTube channel, and on that channel, they're teaching others — their families, their classmates and their teachers — about math or science. So knowing they're sharing in that way — they're more motivated."

It's also opening a lot of doors even beyond allowing parents and guardians to engage in their student's learning, Danielowski said.

"We're also starting to explore student-to-student feedback, where kids are offering feedback to each other," she said. "We're also starting to use it as a convenient parent communication tool, and also as an assessment tool."

Seesaw, in some ways, replaces the more traditional way assignments are done. For example, when Danielowski would teach students about the water cycle, she'd do it on a worksheet. Now, she can use Seesaw, and students can drag labels in the app, and then save their work. It's easier to assess where students are with regard to their knowledge, easier for her to fill gaps in their knowledge with additional learning, and easier for parents and guardians to follow the entire process.

"There are a lot of great things that happen here and in the classroom, and teachers see that every day, but parents and guardians don't," Danielowski said. "Seesaw offers an authentic way to see what's happening in their child's classroom and see that their child is a learner."

Reed said more and more parents are getting engaged on the app every week, and that her goal is to continue building that foundation of engagement.

"Eventually, once we build the capacity a bit more and everyone is on, I'd like to see it became that big engagement tool where students are collaborating with themselves, their teachers and their families," she said. "That would be really meaningful and impactful."