Return to Headlines
Two Anoka-Hennepin teachers semifinalists for Minnesota Teacher of the Year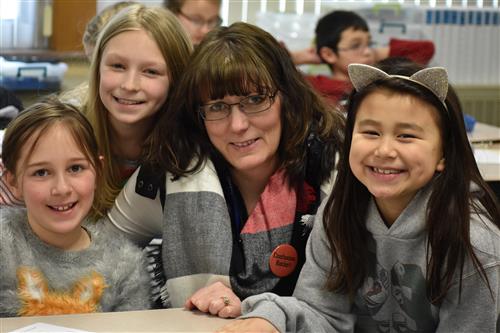 (03/01/19) Of the 14 Anoka-Hennepin educators named candidates to be named 2019 Minnesota Teacher of the Year, two have have been named semifinalists.

Blaine High School (BHS) science teacher Timothy Riordan and University Avenue Elementary School for Aerospace, Children's Engineering and Science (UAE) third-grade teacher Cindy Houle are among the 40 semifinal candidates for the award.

"It means a great deal to be chosen as a semifinalist for this award. I am still in awe and it doesn't seem real." Houle said of being a semifinalist. "It's both humbling and exhilarating — humbling because I work with so many amazing educators that also deserve recognition for the work that they do daily with our students, and exhilarating because it's a celebration of my passion for reaching and teaching students."

Riordan had similar feelings, also pointing to the staff and colleagues around him as being integral to his excellent work as a teacher. "This has been an honor and a very humbling experience but to be honest, I feel that it is more about the collaborative work that is being done at (BHS) than it is about me," he said. "A lot of people have poured a lot into me for me to even have this opportunity, so I feel like this is more about representing this school and this community than it is about anything spectacular that I've done specifically."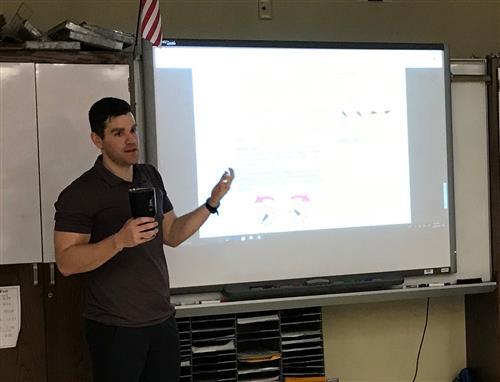 For Houle, her personal mission statement is what helps drive her. "My mission is to find the greatness inside you and reflect it back to you until you see it in yourself," she said.

The mission statement applies to anyone who enters her room, from students and parents to staff — so much so, it hangs inside her classroom.

"There is greatness inside you," it reads. "I believe you have unsurpassable worth. I believe you can succeed. I believe in you. I believe you are unique and special and have amazing gifts to share with the world. I believe you are a gift. I will look for the good in you everyday. There is greatness inside you!"

And working with students and teaching is truly a love for her. "I love that aha moment when a student is brought from complete confusion to total understanding. I love the look on a child's face when you tell them all about the greatness they have inside themselves,"Houle said. "I love looking for good in all situations. I love helping students find a love of learning. I love showing all students that they matter, that they can succeed, and that I care."

Riordan feels that same love.

"I love providing students with opportunities to push themselves outside of their comfort zone and to grow as quality people," he said. "I love getting to know students beyond the curriculum and enjoy challenging them with new and novel experiences. I feel like I thrive on the chaos that sometimes comes with the spontaneity of a high school setting and I love going through that chaos with colleagues that share similar values and approaches to education."

Both said they were surprised to be nominated and even more surprised to get this far into the process.

"When I read the beautiful words of the family who nominated me, I was both speechless and brought to tears," Houle said. "Reading someone else's words about how I have impacted their child's love of learning is a beautiful gift."

For Riordan, it's been even a bit more existential.

"No one goes into teaching for the recognition or accolades, so when something does come along it is more of an awkward feeling than anything," he said. "Don't get me wrong, I am super appreciative for this opportunity, but how does one evaluate a top teacher? There are so many qualities and unique characteristics that make someone thrive in this profession. I feel like we have such a wide range of teachers at (BHS) that are deserving of this recognition and am just humbled to have been chosen at this time."

In January, it was announced that 14 Anoka-Hennepin teachers were among the 168 candidates for the award, which is organized by Education Minnesota, the 70,000-member statewide educators union. The 168 candidates was the third-most in the 55-year history of the award. Candidates include pre-kindergarten through 12th-grade and Adult Basic Education teachers, from public or private schools.

The 2019 Minnesota Teacher of the Year will be announced Sunday, May 5, at the Saint Paul RiverCentre. Over the next few weeks, a 25-member panel of community leaders will name a group of finalists for the award.

The 14 original candidates for the 2019 teacher of the year award were:
Ericka Albeiter, English, Blaine High School.
Jessica Bomstad Young, English, Blaine High School.
David Christensen, English, Blaine High School.
Lynn Florman, special education, Blaine High School.
Cindy Houle, third grade, University Avenue Elementary School - Aerospace, Children's Engineering and Science.
Stacy Johnson, fifth grade, Crooked Lake Elementary School.
Adriann Kell, math, Blaine High School.
Amy Kinney, English, Blaine High School.
Taylor Melius-Polzin, sixth grade English, Jackson Middle School - A Specialty School for Math and Science.
Jaclyn Mingo, special education, Jackson Middle School - A Specialty School for Math and Science.
Chelsea Regan, third grade, Monroe Elementary School - Mathematics, Science and Children's Engineering.
Timothy Riordan, science, Blaine High School.
Brett Theisen, chemistry, Blaine High School.
Justine Wewers, social studies, Blaine High School.