Return to Headlines
University Avenue Elementary named a Top Magnet School in the United States for 2023
(04/24/2023) The Magnet Schools of America named University Avenue Elementary School - Aerospace, Children's Engineering and Science a Top Elementary Magnet School in the United States for 2023. The honor was presented at a special ceremony held Saturday, April 22 at the Magnet Schools of America (MSA) National Conference in Dallas, Texas. View the MSA Press Release.
University Avenue ACES Elementary School is an elementary magnet school with a STEM for students in kindergarten through fifth. UAE is one of 26 elementary schools serving approximately 600 students in the Anoka-Hennepin School District. The school is located in Blaine, Minn., and is a part of the Northwest Suburban Integration School District (NWSISD), which is a consortium of seven school districts in the northwest metropolitan area. Nearly 25% of students at UAE are enrolled through a lottery process facilitated by NWSISD.
University ACES has been recognized multiple years by MSA as a Magnet School of Excellence, which is only awarded to a select group of magnet schools in the country. In February, UAE was one of just 24 schools nationally to earn this recognition, earning the award for the second time in recent years.
District and school representatives attended the conference along with nearly 1,500 other magnet school teachers, principals and administrators from across the country to learn and share best practices in curriculum and instruction, technology integration, school leadership and magnet school design.
On April 28, the school celebrated the award with an all-school assembly. The event was led by students and was attended by Erin Heers-McArdle, Anoka-Hennepin School Board Treasurer, Dr. Kate Maguire, interim superintendent, Dr. Mary Wolverton, associate superintendent for elementary schools and Dr. Annette Ziegler, director of state and federal programs and elementary schools. View photos from the celebration.
To learn more about University Avenue Elementary School, visit ahschools.us/university.
For enrollment information, visit ahschools.us/enroll.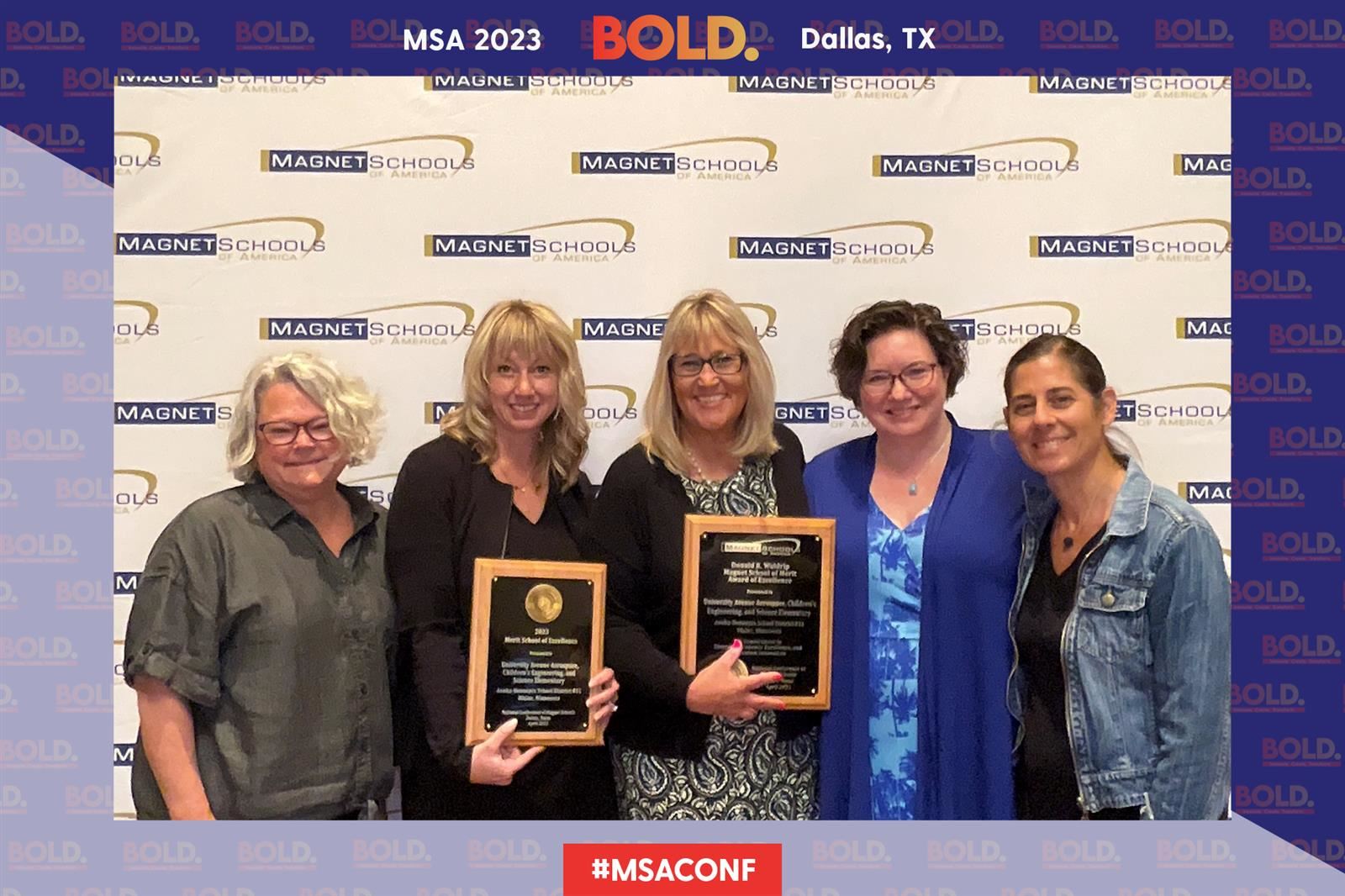 Pictured, left to right: Melissa Jordan, executive director, of Northwest Suburban Integration School District (NWSISD); Kate Watson, Curriculum Integrator Coordinator; Diedre Bloemers, Principal; Erin Heers-McArdle, Anoka-Hennepin School Board Treasurer; Krisanthy Sikkila, NWSISD Communications and Magnet Specialist.