Return to Headlines
Maddie Carlos, Anoka High School, class of 2012, baker, owner of Something Sweet by Maddie Lu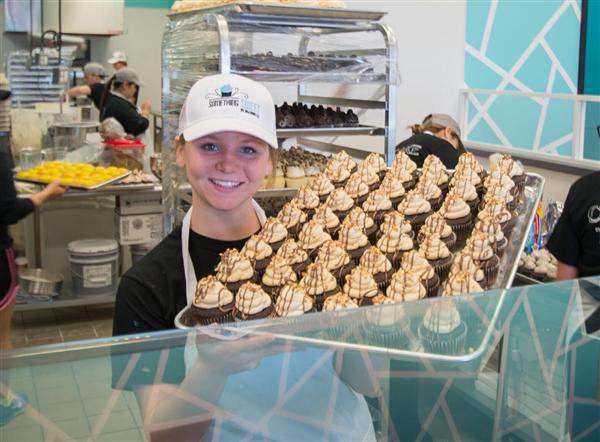 Anoka High School (AHS) graduate Maddie Carlos never had a childhood passion for cooking or baking like so many successful chefs and bakers do.
"It really didn't start until senior year of high school," Carlos said. "I started helping my grandma bake for some craft sales she was doing, and then experimented a little with different kids of cakes and it just grew from there."
Now, at the tender age of 21, Carlos and her mother, Laurie, recently opened a bakery in Coon Rapids called Something Sweet by Maddie Lu.
"The community has been so supportive," Carlos said. "Most of my business has been from word-of-mouth. It's been great."
The bakery opened on May 2, 2015, just a few months after Carlos graduated with her associate's degree from Minneapolis's prestigious Le Cordon Bleu College of Culinary Arts. While Carlos has found a career she loves and is good at, the path wasn't always so clear. After graduating from AHS in 2012, Carlos packed her bags and headed to the University of Minnesota-Duluth that fall to pursue a degree in business.
"I was there for one semester and just didn't like it," she said. "It just wasn't for me. … And honestly, I really never wanted to go to Duluth."
Carlos came home for winter break after that semester and decided to tour Le Cordon Bleu — and that's when everything clicked.
"I immediately knew that I wanted to go [to Le Cordon Bleu]," she said. "I fell in love with it."
Carlos didn't waste any time and began her first class on Jan. 9, 2013. And while she was studying, she began a baking business out of her home kitchen.
"I just posted a picture of the Valentine's Day cupcakes I had made on my personal Facebook page, and people started ordering," she said. "So I created a [business] Facebook page and it took off. I couldn't keep up with orders!"
Rachel Frosch, who was Carlos' lacrosse coach at AHS, isn't at all surprised by Carlos' success.
"Maddie has always exuded happiness," Frosch said. "She was brave enough to follow her passion and trust her intuition to reach her dreams. She's creative, personable, and incredibly hard working, which clearly have been the foundation of her success."
As part of her culinary education, Carlos needed to end her studies with an internship. And while many of her other classmates looked to stay local, she decided to go big and applied to Disney World's intern program.
"After the interview I was so nervous," she recalled. "I thought there is no way I'm getting this — but I wanted it so bad."
She got it and soon she shipped off to Orlando for a four-month stint at Disney's BoardWalk Bakery in the BoardWalk Inn Resort.
"It was so much fun," she said. "It was really hard at times, but I learned so much."
"And ironically, I never touched a cake while I was there," Carlos added with a laugh.
As far as Carlos' experience as a student in the Anoka-Hennepin School District, she said she loved school and every single teacher she had.
"I could say 50 nice things about every teacher I ever had in the Anoka-Hennepin district," she said "I felt like I always had a super close connection with them. And they're still supporting me. A ton of them have come into the bakery."
While Carlos never thought opening a bakery was in the cards, she said it's been a dream come true.
"It's so cool that this all started in my home kitchen," she said. "I love what I do, I don't feel like it's work."
And that's the advice she would give to current AHS students: do what you love and it will never feel like work.
"Knowing what you like and what you're capable of is key," she said. "Everyone is capable of doing something and you just need to find what you love, and go for it. Find your passion and don't just try to make money at it — enjoy it!"