Return to Headlines
Judge Catherine McPherson, Coon Rapids High School, Class of 1981, district court judge, Minnesota's 10th Judicial District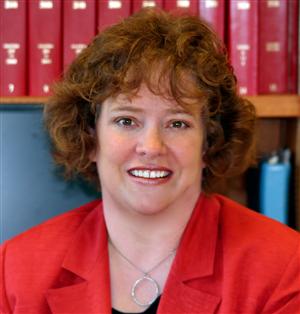 From
Coon Rapids High School
(CRHS) to district court judge in Minnesota's 10th Judicial District, Catherine McPherson's winding road to the bench is a path she never expected to take. But that, she said, is a good message for students.
"It's OK not to know — I didn't know what I wanted to do when I left high school or even college," she said. "I did want to help people, but at the time, I didn't know what that meant."
Today it means helping people in a place that can be scary and mystifying. McPherson, who graduated from CRHS in 1981, was appointed in 2011 by Gov. Mark Dayton to the 10th Judicial District bench, which includes Anoka County. In 2014, she won re-election.
"It's important to me, as a judge, to give people a chance to tell their story," she said. "So many people aren't represented by lawyers, and as a judge, I walk a fine line to let those people who feel they've been wronged have their voices heard, even if they cannot afford representation."
And without her education in Anoka-Hennepin, becoming a judge may not have been possible, she said.
"What I appreciate about the education I received was the diversity of opportunities I had," McPherson said. "I was able to take an AP English course and I was challenged in mathematics. But what was huge for me was that I experienced other types of classes, so when I went to college, I had some background."
She specifically remembers a physics class during her time at CRHS as laying the bedrock for her problem solving skills.
"The concept of taking a problem and finding the possible solutions and avenues for finding the solution — it's the same thing I do in law," McPherson said. "Go figure."
While McPherson wasn't sure what she wanted to do out of high school, she was equally unsure in college. She double-majored in Spanish and psychology at St. Thomas University only after being forced to declare a major, she said. But after she received her bachelor's degree in 1985, McPherson's path changed. She began doing social work in St. Cloud, and also volunteered at Legal Aid, an organization dedicated to helping people get access to shelter, food, health care and other rights.
"It was through that volunteer work that I developed a love of law," McPherson said. "I was also committed to working with underserved populations."
So she went back to school and earned her master's degree in social work from the University of Minnesota in 1990, and finally a law degree from William Mitchell College of Law in 1994. From there, she began working in Hennepin County's victim witness program, which sowed the seeds for her time as a prosecutor, first in Hennepin County, but then, after her children were born, in Anoka County.
But being a judge, that was never something she had intended on pursuing — at least not until she ran into a case that sparked her interest.
"I was coming back from court and was complaining to a supervisor about a ruling," she said. He bluntly told me he didn't want to hear it. Unless I was willing to serve, he didn't want to hear my complaints."
At first she was hesitant, but after doing some research and talking to colleagues, she thought it was something she may excel. Specifically, she said her work and skills as a mediator with Mediation Services of Anoka County were important parts of a judge's work.
So in 2011, McPherson applied with the Minnesota Judicial Selection Committee for the 10th Judicial District vacancy, which serves Anoka, Chisago, Isanti, Kanabec, Pine, Sherburne, Washington and Wright counties. They screened her and sent her name, along with two others, to Gov. Dayton, who ended up appointing her.
"It's been a wonderful place for me," she said.
So, too, have Anoka-Hennepin schools, she said. Not only is she a product of the district, but McPherson, who lives with her family in Ramsey, has a son who graduated from Anoka High School last year, a daughter at the school now, and a husband who teaches at Blaine High School. "The district has had a huge influence on my life," she said.
And she's had a significant impact on the district. Over the years, McPherson has spent time volunteering in the classroom, specifically at Mississippi Elementary School, and was also a member of the district's Future Focus Task Force, which a few years ago studied the needs of the district to maintain a quality education with growing limitations on funding.
"It's a challenging time in our district," McPherson said. "But teachers — they're what make this district special."
She pointed to her own experiences as an Anoka-Hennepin student for an example. "I have specific and distinct memories of teachers who connected with me on some level. Positive experiences," she said. "So teachers who reach out to kids on that level — who form that teacher and student relationship — they're a valuable commodity."
Being active as a parent is key, McPherson said. "So often, it's easy for a parent to say the district should do this or do that," she said. "It's incumbent on us to be actively involved in our school district. Parent involvement enriches the conversation and the more involved you are, the larger say you have in your child's education."