Return to Headlines
AHEF grant provides Roosevelt teacher a new way to engage summer school readers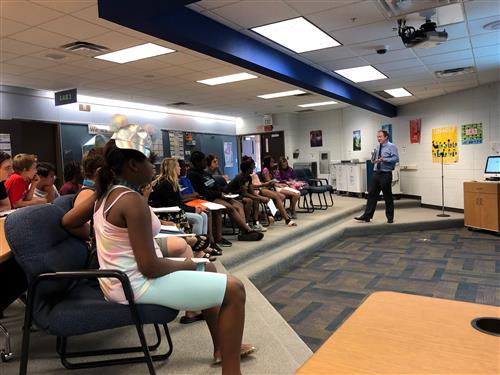 (08/30/19) For a couple of years, Matt Van Zee has been trying to come up with creative ways to get his middle school students more excited about reading.

Now, thanks to some help from the Anoka-Hennepin Educational Foundation (AHEF), the Roosevelt Middle School English teacher thinks he's onto something.

"Comic books and graphic novels," he said. "They're a great way to engage students who are reluctant readers and those who may be reading below grade-level."

He first came up with the idea to introduce comics and graphic novels into his classroom a couple of years ago. When the popularity of the books exploded among his students, he received a small AHEF grant to purchase more of the books so there would be more opportunities for students to read them. Included were a few comic books, and a few graphic novels, which are essentially a number of issues of a particular comic bundled together into one, larger book.

"There's this fallacy that comics or graphic novels are a light reading, or somehow less-than," he said. "But it's challenging reading. The breadth of vocabulary is significant. While reading, kids are constantly looking up words. In addition, the books deal with complex social issues, have deep characters, and feature sophisticated plots. Comic reading is just as valuable as any other kind."

The results were encouraging, he said. Those in his class who were reading the comics and graphic novels saw a jump in their reading scores on the Minnesota Comprehensive Assessment (MCA) from the previous year. In fact, 38 percent of his students who were actively reading comics and graphic novels, and who were considered non- or partially-proficient in reading on the previous year's MCA, had "high growth" on the test, Van Zee said. By comparison, among the same group of students school-wide, but who weren't reading Van Zee's comics and graphic novels, only 6 percent had "high growth."

"The kids reading comics were really benefiting from it," he said. "So I asked myself, 'what could I do to have a bigger impact?'"

This past spring, he approached the AHEF again with another grant idea. This time he wanted to focus on summer school students, but wanted to provide a bit more of an immersive experience.

His idea was to get a copy of a comic book into the hands of every student, have reading club events during the school day so students could discuss the reading with one another, and wrap it all up with a live discussion with the author of one or more of the comics.

Tess DeGeest, executive director of the AHEF, said the idea was a huge hit and one the organization was excited to support.

"The AHEF board loved that (Van Zee) was focused on helping his summer school students," she said. "There usually aren't additional resources for summer school, so part of the appeal was to help kids who have been identified specifically as needing more help."

So Van Zee received a $1,000 grant, which allowed him to purchase a number of copies of three different comic books: Ms. Marvel: No Normal, by G. Willow Wilson; Shuri: The Search for Black Panther, by Nnedi Okorafor; and Luke Cage: Sins of the Father, by David F. Walker.

During class, Van Zee said, there was time for reading, then the students would participate in book clubs, or literature circles, to discuss the reading and develop questions, and as a group they did a lot of vocabulary, too, as the books are heavy in greek and latin root words, which is part of the middle school English curriculum.

Finally, toward the end of summer school, the class held a Skype discussion with Luke Cage author David Walker, where students would walk to Van Zee's computer, and ask him questions, one-on-one, while the rest of the class listened to the answers. They talked about the creative process, how he got into writing comics, and even what it was like to have disagreements about plot lines with his bosses at Marvel.

"It was rewarding because it wasn't this abstract activity — we were actually talking to him," Van Zee said. "And the entire thing was truly student-led."

At the end of his summer school class, Van Zee polled his class. Some 41 percent reported an improved attitude toward reading as compared to the start of summer school.

"The engagement — it was awesome, and unlike anything I've ever done," he said. "It was a real eye-opener."