Return to Headlines
2022-23 Above & Beyond Awards recipient: Billie Davis-Fehr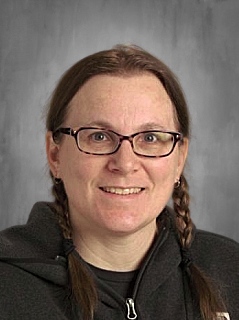 "Billie's students are her top priority. When they are sick, she reaches out to see how they are doing. She shares in their success and in their struggles. When they struggle, she immediately takes action to figure out why or brainstorm ideas or solutions with families. I have never met anyone who has cared so much about their students." - Laura McBroom, parent/guardian.
Billie Davis-Fehr, a special education teacher at Monroe Elementary School - Mathematics, Science and Children's Engineering, has been recognized as a 2022-23 Above & Beyond Awards recipient. Davis-Fehr is in her seventh year of making a difference in the lives of her students at Monroe.
"The most important element of my teaching is creating relationships with my students," Davis-Fehr said. "This is the most difficult part of my job and it lays the foundation to letting me help them with all of the skills that are difficult for them."
Davis-Fehr has learned in over 14 years of teaching that it takes a village to support a student in special education and she sees it as her responsibility to give her students access to that education both in school and outside through all means necessary. Davis-Fehr hopes that by helping create positive outcomes for her students will give them one more reason to try something new or difficult. She keeps a drawer full of notes from former students, staff and parents thanking her for her time and efforts and uses them as a reminder to keep going and help every student.
"I love teaching special education and I love working at Monroe Elementary," Davis-Fehr said. "I am so grateful for the administration, special education staff, general education staff, lovely families and amazing students that I work with each and every day. Being named an Above & Beyond winner makes me happy that I am seen as a valuable member of the Monroe team and it motivates me to continue to work hard."
The 2023 Above & Beyond Awards ceremony to honor Davis-Fehr and 12 other exceptional employees took place March 29 at the Educational Service Center (ESC).
Watch a video profile of Davis-Fehr.