Return to Headlines
Wilson Elementary student named a finalist for international Braille Challenge competition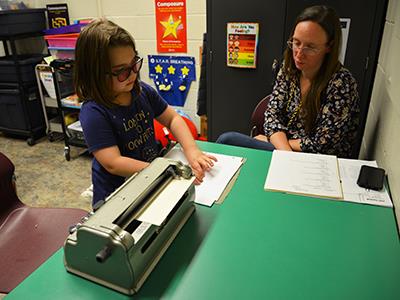 (06/03/2022) Wilson Elementary School second grader Sloan Peterson loves to take tests and be tested, making the Braille Challenge a perfect fit. The Braille Challenge is a competition for students in the United States, Canada and the United Kingdom who are blind or visually impaired, and Peterson has earned a spot as a finalist, which includes a trip to Los Angeles at the end of June.
"I've never met a kid that likes to be tested as much as Sloan does," said Traci Chur, a teacher for blind and visually impaired students. "Every time I say we are going to do a braille test she's super excited about it."
Peterson was one of just nine students to be selected as a finalist in the apprentice category, which includes first and second graders. At her level, students are tested in reading comprehension, spelling and proofreading. Fifty total contestants were selected following the regional competition, and Peterson was the only one from Minnesota who was a finalist.
When she heard the news that she was a finalist, Peterson said she wanted to jump through the roof. She said she was excited for the competition, but like any other kid, her focus was also on the pool and pizza party to start the weekend and going to the beach with her family. View photos of Peterson at school.
Peterson is completely blind in her right eye. Her field of vision is reduced in the left eye and she can see some colors and shapes. When Peterson was 18 months old doctors found a brain tumor on her optic nerve, which caused the visual impairment.
She started learning braille at three years old and it has developed into a bit of a passion. Peterson is currently writing a chapter book in braille where a parrot is the main character.
Chur works with Peterson for about two hours a day, four times a week. Outside of that time, she is with her classmates and uses devices in the classroom like an iPad and a magnifier to help her see.
"One thing I can do on my iPad is I can go into an app and see whatever is on the screen up close and in my hand," Peterson said.
According to the Braille Challenge website, the event is the only academic competition of its kind. Braille Institute developed Braille Challenge to motivate students to practice and hone their braille literacy skills, which are essential to academic and employment success.
Peterson said her goal is to place third or higher at the Braille Challenge.
"Sloan is very inquisitive and wants to know everything," Chur said. "She will go far."