Return to Headlines
Anoka Middle School for the Arts seventh grader named to state honors orchestra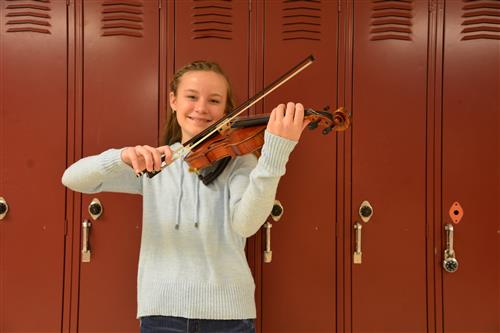 (01/11/19) Lauryn Schreifels plays a violin named Albert.

"I'm proud of Albert," she said with a smile, holding her violin up. "I spend a lot of time with Albert. I practice almost every day."

For Lauryn, a seventh grader at Anoka Middle School for the Arts (AMSA), that practice time is paying off. She was recently named to the Minnesota String and Orchestra Teachers Association (MSOTA) Middle Level Honors Orchestra.

"So, to frame this, Anoka-Hennepin usually only has ninth graders audition, and we don't always get students in to (middle level honors orchestra) every year. So Lauryn, a seventh grader, just proved herself to be the fourth best 'ninth grade' violinist in the state," said Jesse Peterson, AMSA's director of orchestras. "To say this is pretty cool would be quite the understatement."

By being named to the honors orchestra, Lauryn will join other middle school students from around the state for a performance at the Minnesota Music Educators Association Midwinter Clinic, held Feb. 16 at the Minneapolis Convention Center.

"I'm excited to get to work with ninth graders from around the state and learn a lot," she said. "I get to learn more about orchestra and music and conducting and techniques."

To be recognized, it was Peterson who had to nominate and sponsor Lauryn — something that they had actually begun discussing the year previous.

"I was chatting with Lauryn's mom, Sarah, last school year, and we talked about giving it a go this year," he said. "But really, it was up to Lauryn — she needed to make audition tapes, so she'd come to school and ask 'how are these?' She was really invested."

Auditioning was a lot of work, Lauryn said, and included a recording of scales, an excerpt, and solo piece. "It took a couple weeks, working on it a couple hours a day," she said. "But it was fun."

Sarah helped, and agreed it was a lot of work. "(But) we were thrilled to see how well she did, especially against all of the older students," her mom said. "It lets us know that she's on track to do some great things in the future."

Lauryn has always been fascinated with the violin, her mom said.

"Her interest actually came from attending our church," Sarah said. "There are often violins playing during mass, and when Lauryn was little she would completely ignore mass but be enthralled by the violins playing with the choir. She began begging to play the violin, and we finally gave in when she was in third grade, and the rest is history."

All told, Lauryn said she practices for a couple hours six or seven days a week, and in addition to Peterson's classes at AMSA, takes lessons for one hour a week with a private violin instructor. Beyond orchestra class and her practice and lessons, she plays in Sinfonia East with the Greater Twin Cities Youth Symphony (GTCYS), has been part of the Anoka-Hennepin Honors Orchestra, plays in the AMSA orchestra and the school's fiddle club, and now will take part in the state honors orchestra.

Lauryn acknowledges that's a lot of violin time, but she loves it. "It sounds like a lot, but I don't play sports — orchestra is my sport," she said.

And it's not just the violin she loves. Lauryn also plays the piano. "She has been taking piano lessons since kindergarten and had been competing in piano contests since third grade," Sarah said. "But this year she decided to quit competing in piano to have more time for violin, as that is definitely where her passion is."

While she found a spark of passion for violin thanks to church, Lauryn credits Peterson for helping her develop a love for it. "Without him I wouldn't like orchestra so much," she said. "Without him, orchestra would be boring. He makes it fun."

Sarah agreed. "He has a passion for music and playing violin that seems to be contagious," she said. "Her passion would not be the same without his encouragement and support."

A humble Peterson said his philosophy to teaching middle school students is simple: make them smile. "When kids have a smile on their face, they work harder," he said.

As for Lauryn's accomplishment, Peterson said he's proud of her. "I have high expectations, and I'm happy to see kids meet them," he said. "This is really special for her."