Return to Headlines
Anoka Middle School for the Arts' student journal The Storm earns national acclaim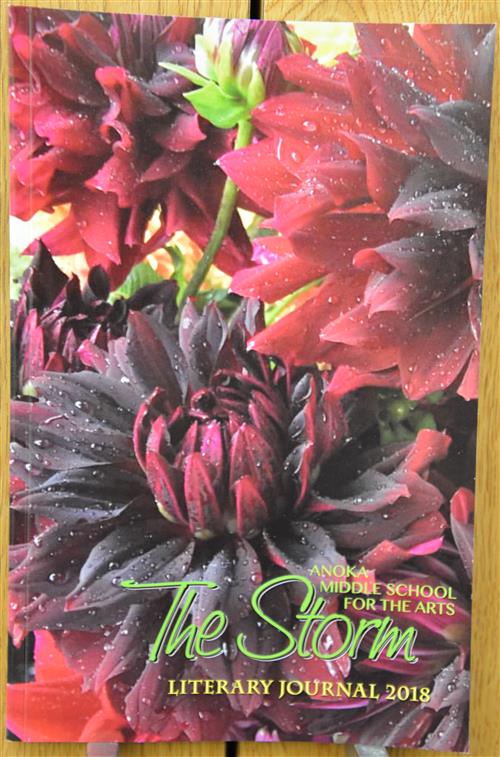 (03/07/19) Every year Anoka Middle School for the Arts (AMSA) publishes an annual student literary and art journal called The Storm, and recently it earned some national acclaim.

AMSA was one of just four schools in the state, and the only middle school, recognized for excellence in student literary magazines from the National Council for Teachers of English (NCTE) for The Storm. In addition, only 358 schools nationally earned the recognition, the vast majority of which are high schools.

"To be the only middle school in the state to earn this is amazing," said Jolanda Dranchak, AMSA's curriculum integrator who also coordinates publication of The Storm. "I think it really shows that it doesn't matter what level our kids are at — they're capable of creating things that meet really high expectations."

To understand, The Storm is literally a professionally published, 75-page journal filled with writing samples and artwork from AMSA students. Any AMSA student may submit work for publication, Dranchak said, and staff members at the school can also submit and nominate a student's work to be included.

"It's just so wonderful to see our students recognized for their work," she said "Recognition like this gives validity to the work students create in and out of school, and for some, it boosts their confidence in themselves and their skillset."

Getting into The Storm isn't easy. Every year there are hundreds of submissions to be included, and once the deadline passes, each piece is read and scored anonymously three times, and the highest scoring pieces become part of The Storm, Dranchak said.

From there, students whose work is selected for inclusion are called into Drankack's office so she can let them know the good news, and that's where the real magic happens. The kids who submitted work know, of course, that their work was up for consideration, but for others, it's a complete surprise.

"A lot of times students — they have no idea. They're like, 'I didn't think my work was good enough,'" she said. "So when I give them the good news they're totally surprised. But they also get a huge confidence boost. The smiles and the excitement The Storm creates is what is so wonderful."

Once submissions are selected and students are notified, Dranchak said two student editors are selected every year to help organize the journal and its theme. For the 2017-18 journal, those two editors were Marissa Nicholson and Nichole Jacquez. Two new editors will be chosen for the upcoming 2018-19 edition later this school year.

"Those two really work to create a thematic path of the work that is selected, and then from there, they identify artwork that complements that theme," Dranchak said. "They did such an amazing job."

AMSA has been publishing The Storm since 2011, and Dranchak took over its publication in 2012 when she became curriculum integrator at the school. Each year it's been published, the journal has won an award of excellence. The publication goes back even earlier — to at least 2008, Dranchak said — when it was dubbed The Swarm, and was published by Fred Moore Middle School, before it was merged with Washington and became the AMSA we know today.

Dranchak said it's pretty exciting to be part of a publication like The Storm.

"It's truly rewarding," she said. "I am quite enthusiastic about the magnet program and am a huge advocate of the arts — all forms of the arts — so offering students a healthy, arts-driven publication like The Storm really supports our school's mission. Plus, we get the privilege to see the scope of our students' talent."

As for the NCTE and its recognition program, their mission is to publicly recognize excellent literary magazines produced by students with the support of their teachers. The group encourages all schools to develop literary magazines that celebrate the art and craft of writing.

"Your magazine is a fine example of this mission in action, and the committee looks forward to seeing future publications from your school," NCTE wrote to AMSA notifying Dranchak The Storm was recognized this year.