Return to Headlines
Santa's Workshop brings kindergarteners to Northdale Middle School for holiday adventure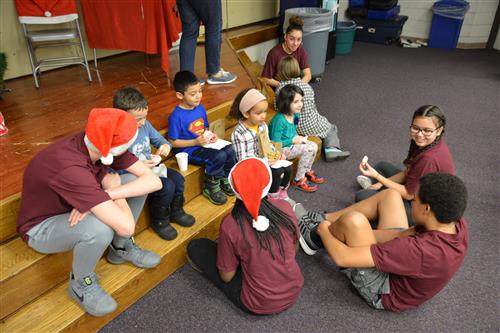 (12/20/18) About 113 kindergarteners from Eisenhower Elementary School ventured with their teachers to nearby Northdale Middle School on Dec. 19 to hang out with middle schoolers, make holiday ornaments, and enjoy some cookies and milk.

The event, called Santa's Workshop, paired one eighth-grade WEB (where everyone belongs) program student from Northdale with one kindergartener from Eisenhower. The duo would then spend about an hour with each other, hand-crafting a couple holiday ornaments, eating some cookies and drinking a cup of milk, and getting to know one another. VIDEO: check out video of Santa's Workshop.

"It's such a cute opportunity to team the little kids with bigger kids. It's a heartwarming thing," said Sara Evans, Northdale's volunteer services coordinator who helped organize and lead this year's event.

For the event, kindergarten classes from Eisenhower took turns during the day, and just walked across the field separating the school from Northdale. Once the kindergarteners arrived, the eighth-graders helped them out of their coats and mittens, which were hung in a coat rack in the room, and then the pairs went to work.

"I really hope I made his day," said Northdale eighth-grader Ben Yeske about the kindergartener he was paired with. "It was fun to be with him — this whole thing is pretty cool."

Santa's Workshop isn't new to Northdale. For many years, the annual event was a popular tradition at the school among staff and students. But last year, for a number of reasons, the event wasn't held.

"At end of last year, I put out an email to our staff saying I wanted to bring it back," Evans said. It turns out a bunch of others did, too.

So Evans and the other staff and volunteers tinkered with how Santa's Workshop would work. She said the group knew they still wanted kindergarteners from Eisenhower to come over to Northdale, but they also knew they needed to cut some of the costs. The old version of the event involved the decorating of laser cut wooden holiday ornaments. The new event involved creating ornaments, such as a little gnome made of pinecones and felt, or a little reindeer or snowman necklace made of pipe cleaners and felt.

"We wanted to find something that's easy to make that the kids can keep as a Christmas memento," Evans said.

She even got Walmart to donate a $50 gift card to help buy the supplies and the cookies and milk.

For Evans, the event is right up her alley — not only in terms of getting volunteers lined up to help out throughout the day, but also the activity itself.

"I'm a huge crafter. For me, this is where my heart is," she said. "So getting the kids together for something like this is really special for me. So once I knew we could do (Santa's Workshop) again here — it was a great feeling."