Return to Headlines
Music departments from each high school set to perform together in unprecedented collaboration Oct. 14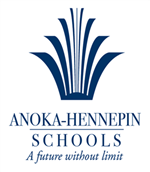 (10/11/19) For the first time, the music programs at all five of Anoka-Hennepin's traditional high schools will be coming together for a collaborative, one-time performance at Orchestra Hall in downtown Minneapolis.

The unprecedented event is set for 7:30 p.m., Monday, Oct. 14, and will feature the bands, orchestras and choirs from Andover, Anoka, Blaine, Champlin Park and Coon Rapids high schools — some 700 students altogether. Tickets were limited and no longer available for the performance.

According to Anoka High School music department leader Michelle Hayes, the event has been about a year in the making. "Doing cool concerts with each other is a really fun and rewarding experience," she said. "Plus. many of our talented music staff will also be playing in the orchestra providing an opportunity for teachers and students to make music side-by-side."

The title of the event is "A Performance of Unity and Common Ground." It centers around the idea of building community and acceptance.

"Bringing all five music programs together and performing with a theme of unity and healing affirms our school district's belief in moving forward together as leaders," Hayes said. "And through the performance of this music, our students feel that they are engaging in being part of helping our communities to find common ground and creating a hopeful, peaceful future."

In that spirit, Hayes said classroom discussion and cross-disciplinary dialogue with other departments during school, as well as the composer's teaching and conducting during the concert, will give student-musicians and the audience a deeper understanding of their role as human beings in the world.

Hayes said the students are energized about the performance. "The students are beyond excited — they're awestruck. The chance to sing at Orchestra Hall is unparalleled as it is the finest performance hall in the five state area," she said. "Plus. they have friendships across the district and the thought of performing together is something they are really looking forward to."

During the event, Dr. René Clausen, director of Choral Activities at Concordia College in Moorhead, has accepted an invitation to compose a special piece of music called "The Music of Being" for the five combined treble choirs. The choirs will also be performing his work, "Memorial," which was written in response to the 9/11 attacks on our nation. Dr. Clausen will conduct both compositions at the concert.

"Dr. Clausen is a renowned teacher, conductor, clinician and composer," Hayes said. "As a result, we chose Clausen's "memorial" because of the power behind the message of his composition. The rest of the music on the concert reflects on a theme of respect for our country, living together peacefully while accepting people's differences."

Hayes said the Anoka-Hennepin Educational Foundation (AHEF) is supporting many of the costs of transporting and feeding the 700 students participating.

"We are honored to perform this music, we are grateful to the district and AHEF financial support to make this concert happen, we are thankful for the administrative support and their attendance at the concert, and we are excited to perform for our families, friends and community," Hayes said. "This is sure to be a powerful experience, and sure to be a "once-in-a-lifetime" experience for many of our students."