Return to Headlines
Andover High School senior forward Ella Boerger named Ms. Hockey award winner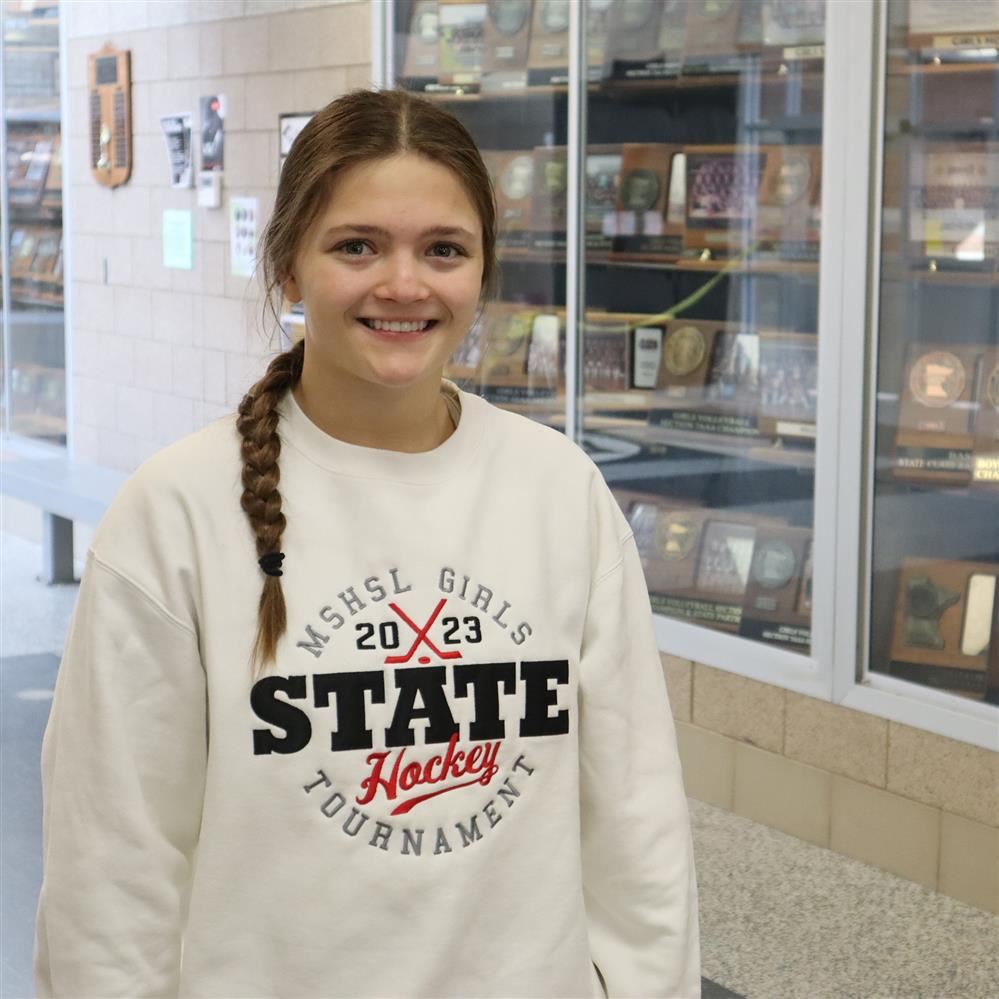 (03/02/2023) Andover High School senior forward Ella Boerger was named the 2023 Ms. Hockey award winner, presented to the top female hockey player in the state, at the annual banquet on Feb. 26, capping off an outstanding four-year career for the Huskies.
In the 27 years of the Ms. Hockey award, no Northwest Suburban Conference (NWSC) player had earned the award, until former Husky Peyton Hemp earned the highest honor in 2021.
Not only is Boerger in elite company at her own high school, but her name will also forever go down as being one of the all-time greats in Minnesota girls' high school hockey.
Boerger was among five finalists named for the top award and accepted it alongside Edina High School's Uma Corniea who was named the senior goalie of the year.
"It was such an honor to be up with those big names (other finalists)," Boerger said. "I was just kind of surprised. I can't thank my teammates, my coaches and my family enough."
Now the second player in Andover's history to be named Ms. Hockey, Boerger will be listed next to some of the all-time greats in Minnesota girls' high school hockey, including the first-ever award winner Winny Brodt, as well as Krissy Wendell and Gigi Marvin, to name a few.
"I can't believe that my name will be on the same list as some of those players," Boerger said. "Everything they have done for the game, I hope I can live up to that and have as much success as they all have had. It is such an honor."
Since her freshman season in 2019-20, Boerger helped the Huskies to four consecutive state championship game appearances, including state titles in 2020 and 2022. During that span, Andover went 107-7, including going 30-0 in 2021-22 to win its second state championship in program history.
Boerger was quick to mention the players before her that helped pave the way for the continued success of the Andover girls' hockey program.
"Every year, we had a lot of great girls and our teams were always deep," Boerger said. "Each year, our teams did a really good job of trusting each other and trusting the process. Even in the times we lost, we just had to remember, we still got there and just because we lost it wasn't the end of the world. Every year our teams did a really good job of working hard so we could get back there the next year."
Boerger finished her career with 112 goals and 119 assists, landing her second all-time at Andover High School with 231 career points. She was also named to the Star Tribune All-Metro second team in 2023 after earning first team honors as a junior.
Looking back at her career at Andover and all the success that she and her teams were able to have, Boerger says it's the friendships she made with her teammates that had the most impact on her.
"This past weekend (at the state tournament) was so much fun," Boerger said. "We got to go down (to Saint Paul) early because of the snowstorm and I don't get homesick when I'm with my teammates. They are all my best friends and I could spend forever with them and not get sick of them. We just always have a great time and we are super goofy, but we know when to turn it off and start focusing on hockey."
Boerger's hockey journey won't end in Andover as she has signed to play the next four years at the University of St. Thomas, where she will help build a Division I resume. The Tommies transitioned from NCAA Division III to Division I last season and Boerger is joining the team at an exciting time with a new on-campus arena being built. She will join former Andover teammates Maddy Clough, and Maddie Jurgensen as well as her linemate this past season, Maddie Brown.
"I really love the coaches and the campus," Boerger said. "I fell in love with the school as soon as I went on my visit. I think they (St. Thomas women's hockey) have a really great future and I am excited to be a part of it."
She has been for years and will continue to be a part of the Andover hockey community, working with younger players in summer camps, as a number of former Andover players have done after moving on to the college ranks.
"I definitely want to try to do big things like those before me," Boerger said. "I want to try to be like Peyton Hemp, Gabby Krause and Jamie Nelson. They've done so much for the Andover community and showed us younger players that hard work pays off and they are just awesome people. I want to try to be just like them, but they all left big shoes to fill."
Just like those before her, Boerger also left a pair of big shoes to fill as well. Four straight trips to the biggest stage in Minnesota girls' hockey and the label of Ms. Hockey which will last forever.