Return to Headlines
Anoka High School alum speaks about her path to the corporate world just one year after graduation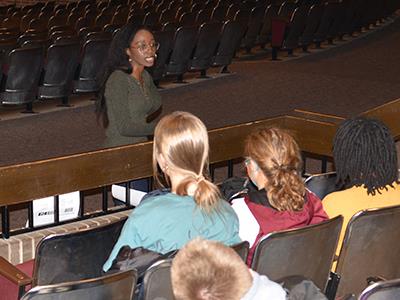 (12/15/2021) Susan Sama graduated from Anoka High School - Center for Science, Technology, Engineering, Arts and Math (STEAM) in 2020 and for the past year has been working full-time as a software engineer at Target Corporation. She returned to the AHS Auditorium Dec. 9 to speak to juniors in the STEAM program about her post-graduate path to the corporate world and to encourage seeking opportunities in early career exploration.
Sama spoke about her experience in STEAM and how she used an internship at Target during her senior year to get on a fast track to a full-time job. Following graduation, Sama entered a 10-week coding boot camp (paid for by Target), which led to an interview. She got the job and within a year of being out of high school had a full-time job at the largest company in Minnesota.
"There are definitely pros and cons to every path," Sama said. "Whatever path you take, you need to make sure you understand the challenges and advantages that come with that risk. To this day I feel this was the right decision for me. Not going to college after high school doesn't mean I can't go back. I think working has given me an advantage to go back part-time if I wanted to and then pay for it along the way."
During her time with the students she emphasized opportunities that were available during her senior year and advised the students to take advantage of what the STEAM program has to offer. She spoke about how having the internship taught her valuable lessons in responsibility, time management and professionalism.
"A lot of students don't know about the internship opportunities or that they could have an internship their senior year," Sama said. "I think it's cool now that more students know about it and take advantage of it."
"Being in the STEAM program and taking the technical classes I did solidified that I wanted to be in a tech-based setting," Sama said. "I like problem solving and that is something that happened a lot in STEAM. I enjoyed having teachers who were more tech-based and I felt like I was really supported in the STEAM program."
Sama is in the Emerging Engineer Program at Target, which is a one year program that emphasizes learning and career development. Following the first year, she will have an entry-level engineering position at Target.