Return to Headlines
District students get firsthand look at job possibilities after visit to annual career fair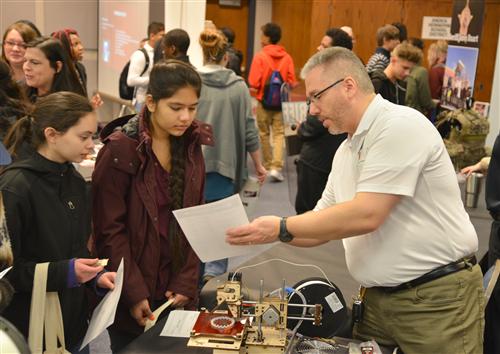 Anoka-Hennepin's annual career fair, one of the state's largest public school district career events, is a serious affair.

More than 700 students from all seven Anoka-Hennepin high school programs visited with the 70-plus companies in attendance at this year's event on Feb. 24, which was held at the Educational Service Center in Anoka, according to Sheba Aldridge-Coffey, a student achievement advisors at Coon Rapids High School who also organizes the career fair every year.



Companies like Medtronic, Target and Walmart, Super America, Chick-fil-A and 3M had representatives at the fair, and professionals from fields including aeronautics, law enforcement, music production, fitness, beauty and banking were on hand, too, including a slew of others. Representatives from a number of colleges and universities were on hand to speak with students as well.


"Some of the exhibitors shared how impressed they were with the quality of questions they got from students," Aldridge-Coffey said. "The students were being great ambassadors, not only for themselves, but also for the district."

The whole point of the fair isn't necessarily for students to get jobs, Aldridge-Coffey said, though that did happen in some cases.

"The point is to connect students with possibilities," she said. "It's a career fair where students could get information about careers in areas that they're interested in, and watching students explore their areas of interest was really exciting."

But some students did walk away with opportunities for summer internships and jobs, or opportunities to shadow the professionals they met, Aldridge-Coffey said.

More generally, Aldridge-Coffey hopes the experience helped students gain confidence in their communication and interpersonal skills.

"Some students need to see the big picture — whatever they are experiencing in life right now is temporary and their lives can be bigger and better than their wildest dreams as long as they work hard," she said.