Return to Headlines
Anoka-Hennepin recognized with major health and wellness awards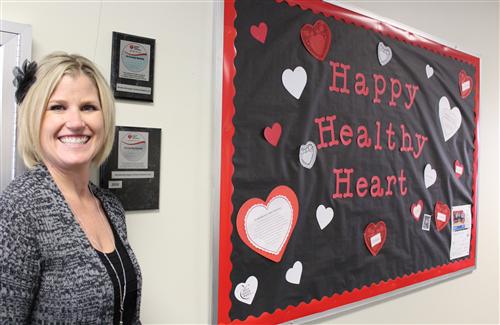 Anoka-Hennepin schools — a district where wellness matters.
Staff members jump, skip, walk, run, ski, swim, dunk and spin. They aim to select healthy foods over processed, dyed and chemically-enhanced choices. They make a good night's sleep a priority and do their best to relieve daily stresses and balance work and play. They work well, play well and eat well.
And while they improve their health, increase their stamina and boost their immunity, educators and administrators serve as physically fit role models to students and families the school district serves.
Recently Anoka-Hennepin's staff health and wellness program was recognized and awarded by the American Heart Association and the American Diabetes Association when it was presented with the Platinum Achievement Award, a Worksite Innovation Award and the Workplace Health Champion Award.
(Photo: Jen Gilbert, wellness specialist for the Anoka-Hennepin School District, poses near a wellness bulletin board mounted alongside the American Heart Association Worksite Innovation and Platinum Achievement awards displayed in the Educational Service Center.)
"You have to have energy and sustainability to do the work we do. If we don't take care of ourselves we can't take care of anyone else," said Jen Gilbert, the district's wellness specialist, adding, "Anoka-Hennepin is the only school district to ever win both the innovation award and the platinum award."
In striving for the American Heart Association and American Diabetes Association awards, Anoka-Hennepin was in competition with organizations around the country. Those organizations included public and private corporations, non-profits, churches, colleges and universities as well as other school districts.
Each organization had to describe its excellence in the areas of physical activity, nutrition and culture and show that there had been measureable outcomes due to those health and wellness efforts.
For Anoka-Hennepin, providing physical activity opportunities for staff members and boosting activity levels before, during and after the work day comes in many forms.
"We do everything we can to break up the work day with activity," Gilbert said and noted that Anoka-Hennepin subscribes to the American Diabetes Association "Don't Sit, Get Fit" innovation.
Posting maps of local walking routes in and outside of buildings and challenging staff to walk 100 miles or more, facilitating group fitness events on site after the work day is done, establishing a run club, a Nordic ski and snowshoe club, organizing a March madness staff basketball tournament, a staff dodgeball tournament and staging a "biggest loser" weight-loss challenge are just a sample of the eclectic mix of physical activity components to Anoka-Hennepin's staff wellness program.
Nutrition also plays a major role in efforts to boost wellness.
"We have fresh, healthy vending machines in the (Educational Service Center) building. And in the schools all vending machines meet healthy child nutrition criteria. We also have a salad bar option in the cafeterias and we have a healthy savings program that staff can use for discounted price on certain foods," Gilbert said.
Furthermore, Anoka-Hennepin has a corporate partnership with the YMCA and also partners with the American Heart Association and the American Diabetes Association to increase awareness of health and fitness.
To keep encouragement coming and motivation moving, every Wednesday Gilbert emails staff a "Weekly Tweak" and sends a quick message about how to tackle cravings, set and get to your goals, put more movement into daily tasks, get better sleep, and so on.
Acting as player-coach for staff striving for better wellness, each building in the Anoka-Hennepin School District has a Wellness Champion who leads the others in his or her building in health and wellness efforts. Each year those building champions can apply for a $500 mini-grant and use that money to purchase workout equipment, hire a group fitness instructor, or put toward achieving any health and wellness goal.
The district's staff wellness program is funded by Medica, the school district's health insurance provider.
As for its efforts toward better health and wellness for Anoka-Hennepin staff, the district has seen measurable outcome in terms of reduced outpatient clinic costs per visit, fewer hospital visits, reduced claim expenses and increased employee engagement.
"When you have 'permission' from your boss and when you have encouragement to do it, it really makes it easy and fun to get involved in better health and wellness activities," Gilbert said. "What makes it so great for us is we have the support of the superintendent, the staff – everyone."
There is no doubt that the "boss," Superintendent David Law, is on board the staff wellness program.
"He's at the Y every day early in the morning. He's working out. He's taking care of himself. He lives and breathes better health. He's a very good example to all of us," Gilbert said.