Return to Headlines
Foundation celebrates another fun and successful AHEF Gallagher Memorial 5K Fun Run and Walk for Literacy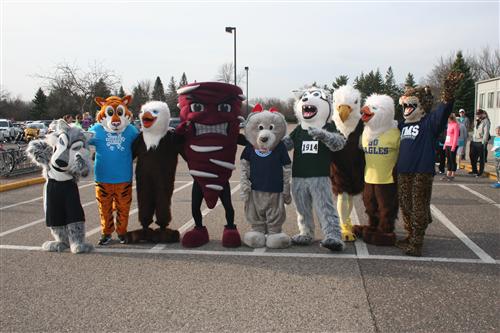 Approximately 500 students, parents, staff and community members enjoyed a beautiful spring morning with their friends, neighbors and colleagues, participating in this year's Anoka-Hennepin Educational Foundation (AHEF) Gallagher Memorial 5K Fun Run and Walk for Literacy on April 8 at Anoka High School.
Held annually in memory of Bill Gallagher, a district principal who was known as a passionate champion for literacy, this year's event raised more than $7,500 to support the foundation's literacy efforts in the schools.
New this year was a school mascot run that took place before the 5K. The Anoka High School Tornado who literally ran circles around some of the other mascots as they strolled, danced and paraded their way to the finish line while waving to the students and families cheering them on.
"The kids loved seeing their school mascots run and then turn around and cheer the students on as they ran," said Ann Sievers, chair of the AHEF board of directors.
AHEF plans and manages the event and encourages schools to rally their staff, students and families to participate. The funds raised are then given back to the schools based on each building's per capita participation rate.
This year's winner of the $500 prize for the highest per capita participation at the elementary level was Lincoln Elementary School for the Arts. Champlin-Brooklyn Park Academy won $250 for taking second, and Madison Elementary School earned $250 as well for taking third. Jackson Middle School won the middle school competition and $500, and Champlin Park High School won $500 with the highest per capita participation among the high schools.
The 5K sponsors covered the costs of running the event, according to the foundation, and include Allina Health - Mercy Unity Hospitals, which is the presenting sponsor, as well as AKA Sport, Medica, which helped fund the books given to students, United Educators Credit Union, Jam Hops, Fifth Avenue Dental, State Farm (Mike Orn), Anoka Kiwanis and the Anoka Rotary. New sponsors this year included Twin Cities Orthopedics and Velocity Sports Performance. The district's staff wellness program,
Where Wellness Matters
, also supports the event.
"These sponsors along with great volunteer support from the Anoka High School track team and U.S. Army recruiters from Blaine, make this community event possible and bring so much fun to the day because they also donate prizes for the participant drawings, and bring giveaways for our runners and walkers. It's such a fun day for all of us," said Sievers.
Next year's 5K date is tentatively set for April 28, 2018.