Return to Headlines
Anoka/Blaine high school curling club makes history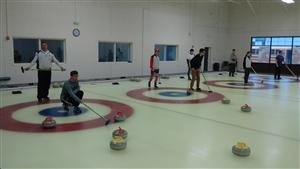 Four years ago, Anoka and Blaine high schools joined forces and created a curling club for students interested in learning more about the Olympic sport.

Over the years, the club has grown quickly, and now has more than 40 students actively participating in the program, according to Jody Cullen, a social studies teacher at Blaine High School who is also one of the club's advisors.

Those four years of growth have also resulted in some history-making this year. For the first time in history, two metro area school teams competed against one another in the sport of curling when the Anoka/Blaine club traveled to Lakeville to take on the Lakeville/Eagan High School Curling Club, Cullen said.

While the match ended in a 2-2 tie, Cullen said it was a fantastic experience that inspired the team to pursue greater competition. "And who knows, maybe it even inspired a future olympian," he said.


The Anoka/Blaine Curling Club is hosted by Four Seasons Curling Club in Blaine, which is an Olympic Training Center run by former Olympian John Benton. The high school club team practices every Wednesday during the winter months.