Return to Headlines
Anoka High School senior Lauren Bastian named Region 5AA Triple 'A' Award winner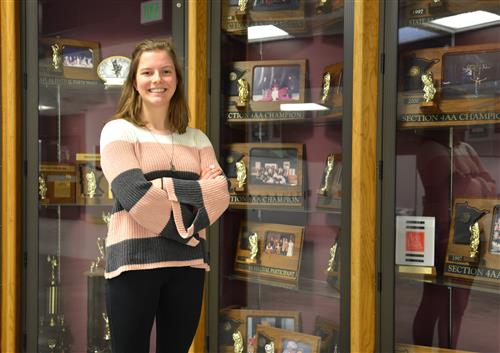 (03/07/19) Anoka High School (AHS) senior Lauren Bastian says she's always been the kind of person that sometimes bites off more than she can chew in life.

"I've always had the problem of almost taking on too much," she said. "I get really excited when I try new things, and I kind of latch on. My parents sometimes have to reign me in a little."

But not too much. "My parents encourage me to do what I'm interested in," Bastian said, "and to work hard."

Her work ethic and devotion to being active and busy have Bastian on the precipice of some amazing recognition. Bastian has been selected as the Minnesota State High School League's (MSHSL) Region 5AA Triple "A" Award winner.

The MSHSL sponsors the AAA award for a senior girl and a senior boy in the state of Minnesota who excel in Academics (3.0 GPA or better), Athletics (at least one MSHSL-sponsored athletic activity) and Arts (MSHSL-sponsored debate, one-act play, speech, visual arts, and instrumental or vocal music). There are eight regions in the state in class AA, so Bastian is one of eight female student-athletes up for the final honor.

The process actually began in the fall. All 16 member high schools in the MSHSL's administrative region 5AA nominated one senior girl and one senior boy to the region-level review and evaluation. The region committee then selected one girl and one boy as region winners who will advance to the state-level competition, which Bastian is now a part of.

"I was shocked to even be nominated," she said. "There are so many other kids in the district, so to be chosen like I was ... I'm honored."
Feeling honored turned to shock when she learned she was one of the state finalists.

"It's a little overwhelming," Bastian said. "I feel like at a certain point — how do you pick between any of the finalists? I would just feel really thankful and really honored to win."

And she has the resume to deserve it. Academically, Bastian is ranked in the top three of her class at AHS, a member of National Honor Society (NHS), and is a National Merit Finalist. In athletics, she was the captain of the AHS girls swim team that finished 16th at state this past fall, and is a hurdler on the track team that'll get started this spring. As for the arts, Bastian plays the oboe in both band and orchestra, and is an accomplished painter, having won a Scholastic Arts Award Gold Key this year. She's also going to state in Knowledge Bowl in April.

"Sounds like a lot when it's all listed like that," she joked.

Bastian, who went to Rum River Elementary School and Anoka Middle School for the Arts before AHS, says she credits her teachers for a lot of her success.

"I feel prepared (for college). I think the teachers here are really great — they push you," she said.

In the fall, Bastian will head to the University of Minnesota (U of M), Twin Cities campus, to study statistics or computer science, with a minor in the arts. But it's all a little undecided.

"I know I want to connect people," she said. "I have this creative side and this math side. With the arts, whether it's music or painting, I'm connected to people through that. With math, if you think about it as a creative process, you can help people. Like, with statistics, it's about figuring out how the world works so you can help people. I'm going to find a way to combine them — helping people is a common interest."

Why a university that's close to home? "There are a lot of opportunities at (the U of M). There's room to move around. It's a big city and there's a lot to experience, so it's a good place to grow," she said.

When she arrives on campus, Bastian will have a few scholarships — a major academic one she's already earned, plus a National Merit Scholarship, and, if she wins the Triple A award, another $1,000 scholarship.

But before that, Bastian said she's looking forward to the rest of her senior year, her track season, and taking a camping trip in the summer with some friends.

"I'm really excited for everything," she said.

Bastian will learn if she's won or not at a banquet later this month. If she wins, she'll be recognized at an on-court recognition ceremony held in conjunction with the Boys' State Basketball Tournament in March.

In addition, Andover High School senior Matthew Brodeur is the male finalist in administrative region 7AA for the award.

Anoka-Hennepin MSHSL Triple A Award nominees
Andover: Kelly Lehtola, Matthew Brodeur.
Anoka: Lauren Bastian, Jackson Hauge.
Blaine: Stephanie Lewis.
Champlin Park: Izzy Ashburn, Bennett Otto.
Coon Rapids: Courtney Killian, Logan Rotzien.