Return to Headlines
Anoka-Hennepin high school graduation rates continue to rise
(06/10/2021) Graduation rates for students in the Anoka-Hennepin School District continue to increase with district totals for 2020 at 92.3% graduating from the district's five traditional high schools. Anoka-Hennepin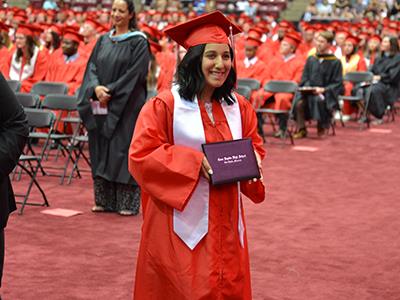 continues to outpace the state graduation average overall, as well as in the majority of student groups. More students are also staying in school yielding an overall dropout rate of 2.9%, compared to the state average of 3.7%.

"This is the first class impacted by the pandemic and they have been able to basically maintain district graduation rates while also growing success at our five comprehensive high schools," said Superintendent David Law. "Our Special Education and students of color continued to show increases and their hard work is paying off with a diploma".

Andover High School recorded the highest graduation rate at 96.2%, Coon Rapids High School jumped 2.75% in one year and Blaine and Champlin Park High Schools are at their all-time high graduation rates at 95% and 93%, respectively.

High School graduation rates at five traditional high schools
| | | | |
| --- | --- | --- | --- |
| | 2019 | 2020 | |
| Anoka-Hennepin | 91.7 | 92.3 | (+.5%) |
| State | 83.7 | 83.8 | (+.1%) |
| | | | |
| Andover | 95.89 | 96.23 | |
| Anoka | 90.94 | 88.76 | |
| Blaine | 93.79 | 94.84 | |
| Champlin Park | 92.17 | 93.00 | |
| Coon Rapids | 85.25 | 88.04 | |

Of the 16 student groups measured, 14 earned diplomas at rates higher than the state average for that group. The 2020 results make nine years that the graduation rate for Black students has outpaced the state average for this student group, consistently above 10 points above the state rate. Three of Anoka-Hennepin's traditional high schools had over 90% of black students graduate in 4 years. In addition, four of the five traditional high schools have a graduation rate gap between black and white students of approximately 6% or less, with the districtwide black-white gap at approximately 10%.

Other student groups also saw substantial increases in graduation rates. The American Indian student population, those identifying as two or more races, and students experiencing homelessness increased their graduation rates by approximately 10% or more over last year.

"Behind these increasing numbers are students hard at work to earn their diploma," said Superintendent Law. "Expectations for student success are increasing and our teachers, administrators, and support staff are finding a way to help more students reach success."

Graduation rates are one of the five main data points used to measure student performance in Minnesota's World's Best Workforce monitoring system. Other key performance indicators include kindergarten readiness, reading well by third grade, reducing performance gaps between student groups and college and career readiness.

For more information on statewide graduation rates, visit the Minnesota Department of Education's website.