Return to Headlines
Anoka-Hennepin's 2016-17 Above & Beyond Award winners honored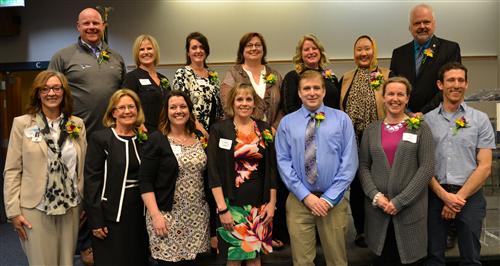 Fourteen outstanding district employees were honored April 12 as the Anoka-Hennepin School District's 2016-17 Above & Beyond Award recipients.
Check out photos from the event.
The winners are:
The Above & Beyond Awards involve students, staff, parents and community members in recognizing and rewarding Anoka-Hennepin employees — teachers, secretaries, cooks, paras, custodians and others — who consistently go that extra mile so students can be successful.
The Anoka-Hennepin Educational Foundation (AHEF) and the Anoka-Hennepin School District sponsor the Above & Beyond Awards program jointly. Its mission is to recognize outstanding employees for innovation, creativity, caring and commitment. Award recipients were nominated by parents, students and colleagues and were selected by a panel of community representatives, staff and principals.