Return to Headlines
At Nitro X camp, students build cars and interest in auto careers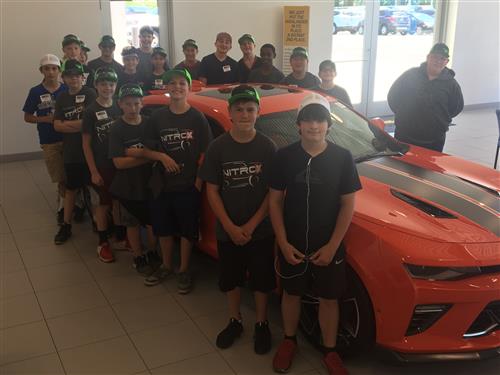 Summer camp just took a real-world, high-tech turn when Nitro X rolled into town.
A group of Anoka-Hennepin middle school students learned the steps to build their own remote control car while getting an up-close view of auto technicians in action through tours of local auto dealerships to accompany their classroom experience.
"This can be a rewarding career option," commented Joe Peterson, service manager at Main Motors in Anoka, one of the businesses partners supporting the camp. He explained that an $80,000 salary for quality technicians in within reach and the search is on for top talent, "This career is only getting more technical. We need people who work with computer systems and use data to solve problems for customers," he told the students during their tour of the 100-year old Anoka institution.
Check out the video Morrie's put together featuring Anoka-Hennepin students.
Nitro X introduced motivated students to explore education programming and career options in transportation-related industries. From safe operation of vehicles, to the role of the auto technician, detailing and maintenance to sales and marketing, the camp had it all. There was even a segment on what to look for when you buy a car.
Industry partners Walser Automotive Group, Luther Automotive Group, Morrie's Automotive Group and Main Motor hosted students in their facilities. Students heard directly from service managers and technicians involved in the day-to-day operation as they learned about all aspects of the industry from the showroom to the service bay. The Anoka-Hennepin Education Foundation, Factory Motor Parts, and Harbor Freight Tools were essential partners to help make this opportunity available.
"We're working together to offer high school students who are motivated for these careers the option to earn concurrent college credit starting this fall," commented Dave Holmquist, auto mechanics instructor at Anoka Technical College, who partnered with Anoka Hennepin's Secondary Technical Education Program (STEP) to bring the camp from concept to reality. Financial and marketing support from the Minnesota State Transportation Center of Excellence, a consortium of secondary, post-secondary, and industry partners, provided essential support for the camp.
Students in Anoka-Hennepin high schools have access to auto mechanics programming at Andover, Anoka, Blaine, Champlin Park and Coon Rapids High Schools along with the STEP facilities co-located on the campus of Anoka Technical College.
Nitro X camp culminated with an exciting race day, where campers put their cars to the test. By all accounts, it appears the first-ever event is gearing up for a return next summer.
"Our program is growing and the seats are filling up," commented Theron Busse, t automotive teacher at STEP. "Industry needs these jobs filled with quality technicians and we are doing our best to meet the need." he added. Along with Busse and Holmquist, camp instructors included Dean Joslin, advanced automotive technology teacher at Anoka High School and Dave Larson, automotive technology instructor at Anoka Technical College.
For more information on STEP visit ahschools.us/STEP.
For more information on Anoka Technical College visit anokatech.edu.