Return to Headlines
Two Coon Rapids High School students experienced the trip of a lifetime at the Congress of Future Medical Leaders
(11/01/18) "The experience of a lifetime" is how two students at Coon Rapids High School - Center for Biomedical Sciences and Engineering (CRHS)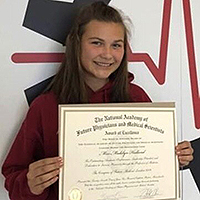 described their trip to the Congress of Future Medical Leaders conference in Boston, Mass. this past June.
Madelyn Hedlund and Kauthar Al-Khiqany were both shocked when they received a letter of invitation to attend the conference. Both students were nominated by a teacher at CRHS, that is still unknown to them, to attend the prestigious conference which is labeled as "the largest and most impactful gathering of future medical leaders" by the National Academy of Future Physicians and Medical Scientists.

According to the American Association of Medical Colleges, America is facing a national crisis — at current graduation and training rates, there will soon be a shortage of as many as 150,000 primary care doctors and specialists around the country.

One area that is said will play a critical role in enabling the United States to remain the economic and technological leader of the 21st-century global marketplace is the implementation of Science, Technology, Engineering and Mathematics (STEM) education.

CRHS integrated the Center for Biomedical Sciences and Engineering in 2014-15 and through the STEM programming, students receive integrated and rigorous, in-depth focus on science, math, and medical or engineering courses.

"At CRHS, we are extremely excited to have two aspects of Project Lead the Way curriculum - the Biomedical Science and Engineering program," CRHS Principal Dr. Annette Ziegler said. "The unique programming that we have in our Center for Biomedical Sciences and Engineering programming allows for students to explore the latest curriculum in the STEM field. Students are able to select a pathway in the biomedical sciences or engineering program or a blended pathway to prepare for future careers while earning college credit at school. The students in our program have stated that the classes are exciting, engaging and that they are learning skills that are preparing them for their future since the curriculum is based on real-world problem-solving skills. The teachers in this program are highly trained and receive training every year ensuring that the curriculum is relevant to the needs of our society."

Ziegler added that visitors viewing a class in the program are amazed at the engagement and knowledge of the students while they are viewing students in hands-on learning experiences.

CRHS has partnered with a business advisory board and local partners in the community such as Medtronic, Boston Scientific, Allina, RMS, Anoka-Ramsey Community College, St. Cloud State University, the University of Minnesota and others to give students the opportunity for further hands-on experiences in the field.
Al-Khiqany, a sophomore at CRHS, is currently enrolled in the biomedical sciences program and feels that the programming is preparing her for the future. "I feel that without it, I would be behind when starting college," Al-Khiqany said. "All of the items we are learning are very important for preparing to enter a pre-med program in college."

Hedlund, a junior who also participates in soccer and lacrosse at CRHS, said that her Advanced Placement (AP) courses are preparing her for college because of the extensive reading and homework that she has to complete to stay on track.
At the conference, Al-Khiqany and Hedlund received the opportunity to hear from award-winning doctors and scientists including five Nobel Prize winners Dr. Mario Capecchi, Sir Richard Roberts, Dr. Leland Hartwell, Dr. Michael S. Brown and Dr. Jack Szostak.
"The presenters were really inspirational," Al-Khiqany said. "They showed that everyone has potential to do what they love, and achieve even more beyond that through hard work. It really impressed me to see people who have accomplished so much, taking the time to speak with high school students."
They also heard from Dr. Bohdan Pomahac, the first surgeon in the U.S. to perform a full face transplant, and had the opportunity to hear from individuals who were the recipients of outstanding medical care, including Carmen Tarleton, the recipient of the nation's fifth full face transplant.
Al-Khiqany said that it was amazing to see something so incredible happen that no one thought could be accomplished, when asked about the experience of hearing from individuals who were the receiving end of miraculous medical care by some of the world's greatest doctors.

Another exciting session of the conference included the observation of a live surgery.

"I don't like needles, and wasn't a big fan of the stitching part," Hedlund said. "But I was amazed on how they accomplished the procedure with complete accuracy and how it just seemed like a normal everyday thing, and not a major surgery to those who were conducting the procedure."

Al-Khiqany added that this was an amazing experience for her as well, as she aspires to be a surgeon herself one day and this gave her a great perspective on what it would be like.
During the three-day conference, Hedlund and Al-Khiqany were surrounded by students from around the country, who just like them, want to pursue a career in the medical field. They were able to network and make connections with high school students from other states, and learn more about their peers' experiences.

"Everyone was so open-minded and welcoming the whole time," Hedlund said. "It was interesting learning about other kids from around the country that were all experiencing different class sizes and how different schools around the country actually are."

"It was just so diverse," Al-Khiqany added. "It was a great opportunity to meet other people with the same interests as me."

With aspirations to become a physical therapist, Hedlund is continuing to work hard in her AP courses while searching for schools with top-rated physical therapy programs. Al-Khiqany said that she doesn't exactly know what type of medicine she wants to study at this point, but she really just wants to find the place that is the best fit for her.

For more information about the CRHS Center for Biomedical Sciences and Engineering, visit the program's website.