Return to Headlines
Anoka-Hennepin Technical High School student proud to be on path of opportunity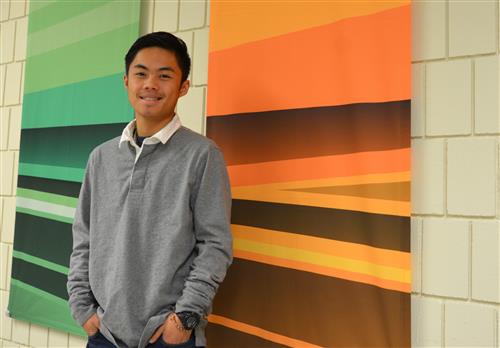 (12/06/18) Trust Thao acknowledges that he struggled as a student in previous years.

"I needed help, but I just tried to do it myself," he said. "I didn't know about the opportunities for help, and I never really asked."

As a result, Thao, 18, didn't graduate with his peers from Anoka High School. And that, he said, was hard. "I didn't really know what I was going to do," he said. "My parents had expected a lot from me. I felt lost."

Then he discovered Anoka-Hennepin Technical High School (AHTHS), Anoka-Hennepin's diploma completion program, located on the Anoka Technical College campus, that offers 18 to 21-year-olds who didn't graduate with their peers a chance to get their high school diploma and transition into college or a career. "It changed everything," he said.

Today, Thao is set to graduate before Christmas after earning and recovering the credits he needs to get his diploma. And if that wasn't enough, he has not one, but two full-time job opportunities waiting for him once he has that diploma in hand.

"I feel like I've come a long way," Thao said. "Now I have this pathway — I have some things to look forward to now."

About 10 months ago, while still at Anoka, he made it known to staff at the school he was in need of a job. He said a teacher made a phone call, offered a reference, and that led him to a part-time role at Carlson Toyota in Coon Rapids working as a runner.

"Basically when customers come in, I take their car, log information like the VIN number and mileage, and park it so the techs can take care of the rest," Thao said. "It's a good job."

But it's just part-time, and now that he's about to graduate from AHTHS, he said he began looking for full-time work. Enter Honeywell and a full-time job doing avionics assembly.

"It pays a bit more, which is good," he joked. "There I'd be helping make parts for planes and (I would) help make sure the parts are ready (and safe). If I were to work there, they'd train me, and I'd have a lot of opportunities to move up in the company."

But recently, while talking with his manager at Carlson, Thao mentioned the Honeywell opportunity. "When he found out I might go to Honeywell, he said I'd have a full-time job at Carlson if I wanted it," he said. "That made me feel good — that they wanted me."

AHTHS Principal Nancy Chave said Thao is a perfect example of why the school exists.

"The goal here is for students is to earn their diploma and get on that career or college track. That's what we're here for," Chave said. "(Thao) is proof that it's happening. We're so proud of him and the other students here like him."

While he hasn't made a work decision yet, he said it probably wouldn't have been possible without the support and help he's received from the staff at AHTHS.

"A lot of kids — I don't think they know about this school," Thao said. "I didn't know until a counselor told me. And it's so positive here. I get so much support from teachers and staff."

Today, Thao said his parents are excited for him to graduate, and that he'll be walking across the stage to get his diploma during the AHTHS winter commencement ceremony in January.

As for his future, beyond the job he chooses, Thao said college is in his plans, but he's not sure yet what that looks like. "It'll come," he said.