Return to Headlines
Two Anoka-Hennepin seniors place in VFW 'Voice of Democracy' essay contest
(12/07/18) Andover High School senior Stephanie Nowak, and Blaine High School senior Ryan Riedel, each placed in the Coon Rapids VFW's annual Voice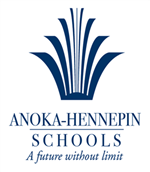 of Democracy vocal essay contest.

This year's topic was "Why my Vote Matters," and Nowak finished second in the competition, earning a $100 check for her efforts. Riedel finished third, earning a $50 check.

"Winning is pretty sweet," Riedel said. "It's the first time I've won something for an essay I've written, and I've written a ton of essays while applying to colleges and for scholarships. So I was pretty happy." (Read Riedel's essay.)

To enter the vocal essay contest, Nowak and Riedel each submitted a written essay, and then recorded themselves reading it. After that, they hand-delivered the materials to the Coon Rapids VFW. (Read Nowak's essay.)

While doing research on college applications and scholarship opportunities, Nowak learned of the essay contest through Andover's Naviance College and Career Readiness Platform which is a web-based service designed for students and parents to help make decisions about careers, college, and college courses.

"I just felt this was very appropriate for me because I just voted for the very first time and democracy is very important to me," Nowak said.

Nowak's grandfathers are both veterans of the Korean War and their experiences inspired her work, which focused on the freedoms enjoyed by Americans and those who sacrificed to ensure those freedoms.

"Without democracy, we wouldn't be able to choose anything in our lives if we weren't allowed the opportunity to vote," Nowak said. "So many have fought and sacrificed their lives for our right to vote."

Meanwhile Riedel said he had plans to enter the essay contest for some time. He knew about it because his cousin had placed in it a few years ago. "I had a family history with the essay contest," he joked.

Riedel said he has a long family history of service, and considers himself to be very patriotic. His great grandfather was an Army paratrooper in WWII, and jumped into France the day after D-Day. His grandfather had a 40-year career in the Navy and U.S. Coast Guard, and his uncle was a soldier in the first Persian Gulf War.

"Not every country gets the right to vote," he said. "The reason we have that freedom is because of our veterans. So that's what I wrote about."

Riedel said he's going to put the prize directly toward his education. He's not sure where he's going to go to college yet, but knows he wants to study business.

When asked what she thought made her essay stand out from other submissions, Nowak said her focus on respect of veterans and sacrifices made by those that allow us to enjoy the freedoms that we do.

According to the Coon Rapids VFW (Post 9625), the Voice of Democracy competition began in 1947, and is "a premier audio essay competition" for high school students around the country. The competition is administered regionally by local VFW posts, and from there, winners advance to state and then national competitions. The grand prize winner earns a $30,000 scholarship.