Return to Headlines
Coon Rapids High School teacher earns DECA lifetime achievement award
(03/08/19) Throughout a 20-year career, Blake Bodenburg has been providing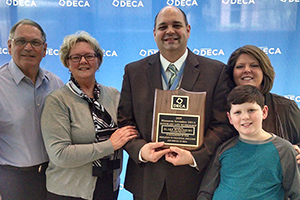 students opportunities to explore careers in marketing, management, hospitality and finance through DECA. In those 20 years, he launched the DECA program for underclassmen at Anoka High School (AHS) and now is the DECA advisor at Coon Rapids High School - Center for Biomedical Sciences and Engineering (CRHS).

During the Minnesota DECA State Career Development Conference, which was held March 3-5 at the Hyatt Regency in Minneapolis, Bodenburg was recognized for his ongoing dedication to the program.

Bodenburg was the recipient of the Honorary Life Membership Award for his guidance as a teacher and advisor. The award is presented in honor of one's dedication to vocational education and service to DECA and is considered the highest honor given by Minnesota DECA.

When asked what it meant to earn this award, Bodenburg was quick to turn the attention to his students, who he says are the reason he was honored.

"It takes having a lifetime of great students," Bodenburg said. "I have already been blessed in having a career's worth of amazing students and this award is truly amazing because of them."

Bodenburg currently serves on the Minnesota DECA state board of directors as the treasurer and from 2015 to 2018, he served as the president of Minnesota DECA.

"I would like to thank my family, because many of the lessons that I teach in school are based on the lessons my parents taught my siblings and I," Bodenburg said. "I would also like to thank my fellow DECA advisors, school administration and business department at CRHS for their enduring support of DECA. Lastly, the most important person to the success of all my students is my wife, who allows me to go away on 24-hour kickball fundraisers, five-day international competitions, and a district conference a week before Christmas. Without her support, I wouldn't be able to dedicate so much time and effort into CRHS DECA."

DECA provides students opportunities to learn more about a career in business, students are exposed to leadership experiences within the classroom, community and around the United States. Students also compete at district, state and international levels and work with local businesses and chambers of commerce while learning to implement and expand job readiness, financial readiness and participate in entrepreneurship programs in their community.

The CRHS DECA team had a successful week at the State Career Development Conference. 33 CRHS students participated at the annual conference.
Students receiving state recognition include:
Kenneth Batiste, 2nd place, International Qualifier, Principles of Hospitality and Tourism.
Ryan Kemp, International Qualifier, Sports Marketing.
Ellen Leciejewski, Sydney Soczek, Ryan Kemp, International Qualifiers, School-Based-Enterprise.
Maja Gonzalez, 2nd place, International Qualifier, Sales Demonstration - Soft Lines.
Megan Cosman, Jesus Genis, 2nd place, International Qualifiers, Gold Chapter Project.
Sara Abbas, Emily Holloway, Salam Hijazi, Brynn Nguyen, International Qualifiers, Chapter Campaigns.
Josie Ingvaldson, Uyen Nguyen, Megan Shultze, International Qualifiers, Membership Campaigns.
CRHS DECA, 3rd place, Video Production Entry.