Return to Headlines
MnDOT engineers visit civil engineering class at Blaine High School to discuss Highway 65 project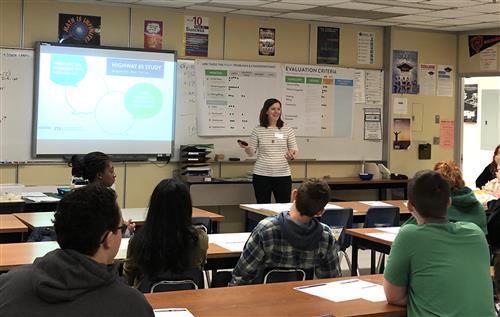 (03/21/19) Engineers from the Minnesota Department of Transportation (MnDOT) visited Blaine High School (BHS) March 20 to meet with civil engineering students.

The civil engineering class is part of the BHS Center for Engineering, Mathematics and Science (CEMS) program, and according to its director, Jenny Birkmeier, the main topic of the visit was the Highway 65 safety and mobility corridor study.

"This was a good opportunity for students to hear about a potential project in their community," Birkmeier said.

One of those who met with the students is Melissa Barnes, MnDOT's North Area engineer, and project leader of the study. She said the visit with the students had two goals: one was to educate them about the Highway 65 study and hear their thoughts about the project; and the second was to give students an idea of what a civil engineer does every day.

"I know from personal experience that I didn't understand what a typical day looks like for people working in civil engineering," Barnes said. (This was) a great opportunity for students to learn about careers and can hopefully help them make decisions about their interests before they get to college."

For Barnes, volunteering time to meet with students in this way in important to her. She's member of a group called Women's Transportation Seminar (WTS) International, which is a professional organization dedicated to building the future of transportation through the global advancement of women. The group also has a youth outreach foundation, Transportation YOU, which is a mentoring program for high-school aged girls who may be interested in working in the transportation field in the future. It's through Transportation You that Barnes' visit was made possible.

"The program is meant to encourage young women to consider careers in the transportation field," she said. "And we have been presenting on different aspects of transportation (at schools) all year."

According to Birkmeier, the chance to talk to a MnDOT engineer like Barnes is really beneficial. Every year MnDOT offers internships to students that are part of programs like Blaine's CEMS program. "Each year we have students who apply and get hired to work as engineers in various positions while they are in high school," she said.

As for the Highway 65 study in particular, Barnes said the students had insightful and thoughtful questions, and had great feedback about the project — feedback that will be brought back to the committee working on the study.

"I really enjoy volunteering at (BHS)," Barnes said. "The students have always been interested and engaged, and I am hopeful they will consider careers in transportation because we would be lucky to have them."