Return to Headlines
University Avenue Elementary School recognized as one of top magnet programs in nation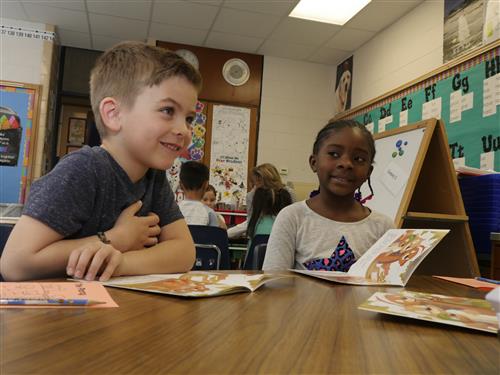 (04/19/19) University Avenue Aerospace, Children's Engineering, and Science Elementary School (UAE ACES) in Blaine was recently recognized as one of the top magnet programs in the nation.

During the Magnet Schools of America annual conference, held April 10-13 in Baltimore, Md., UAE ACES was one of 10 schools up for being named the organization's national elementary Magnet School of Excellence for 2019.

"It was pretty humbling to be recognized in the top 10 schools," said Principal Diedre Bloemers, who attended the conference with Kate Watson, Curriculum Integrator on behalf of the school. "This kind of recognition just really demonstrates how well we work collaboratively — staff and students and families and community partners — University being honored like this is for all of them. We couldn't do it without every piece of the puzzle coming together."

Every year, Magnet Schools of America recognizes schools across the nation as either schools of distinction, or more impressively, schools of excellence. Those schools of excellence are then further scrutinized, and a top 10 group of finalists for the top school of the year award is created.

This year, UAE ACES was one of three Anoka-Hennepin schools named Magnet Schools of Excellence. Anoka Middle School for the Arts (AMSA) and Champlin-Brooklyn Park Academy (CBPA) were the other two, but didn't move to the next level for recognition at the conference. In all, just six other schools across the state received the honor, and only 106 schools across the nation earned the Magnet School of Excellence designation.

According to Bloemers, UAE ACES was informed that they had a perfect score when judged by Magnet Schools of America for the excellence designation, and as it moved through the process of review for the top award, two representatives from the organization flew out and visited the school, where they met with students, staff, parents, and strategic partnerships. It was in February that Bloemers learned UAE ACES was among the top 10 and up for the national recognition.

Bloemers said having a chance to go to Baltimore for the Magnet Schools of America conference was rewarding.

"Being there amongst some of the most innovative programs and schools in the country was a wonderful opportunity to collaborate and learn," she said. "It was also really affirming for us that we're moving in the right direction as far as our program goes."

And that affirmation is something she's excited to share with her staff at UAE ACES.

"I'm truly beaming proud of the heavy lifting our staff and students do every single day," Bloemers said. "They teach our district curriculum with rigor and set goals and have high expectations for all students, but they also integrate science, technology, engineering and leadership into all of that. They work diligently to provide special experiences to our students. It keeps kids engaged and excited to come here every day. The staff are remarkable."