Return to Headlines
District students take advantage of world language certificate, seal to earn credits before college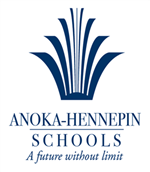 (06/06/19) This year, for the first time, Anoka-Hennepin students who demonstrate proficiency in another world language in addition to English had the chance to earn college credits for their skills.

Earlier this year, the Anoka-Hennepin School Board approved the offering of bilingual seals and proficiency certificates to the transcripts of students who have demonstrated fluency in another world language in addition to English. The entire offering is facilitated by the state of Minnesota, and by earning the Minnesota World Language Proficiency Certificate, students receive two semesters of college credit at a Minnesota State Colleges and Universities (MnSCU) institution. Those who earn the gold bilingual seal will earn three semesters of college credits at a MnSCU institution.

Kim Pavlovich, the district's director of secondary curriculum and instruction, said she's thrilled the district can now offer the certificate and bilingual seal to students who speak multiple languages.

"We don't get an opportunity to honor our multilingual students very often," Pavlovich said. "So this is our chance to honor them and provide them a chance for college credit."

In this, the first year, Anoka-Hennepin has had seven students earn the Minnesota Gold Bilingual Seal in the following languages: Spanish, Russian, Chinese, and Oromo. In addition, 17 students earned the Minnesota World Language Proficiency Certificate in the following languages: Spanish, Russian, French, and Arabic. The district is also awaiting the results for seven other students.

"This option is available to speakers of many different languages — even beyond those taught in Anoka-Hennepin, which is the really great part," Pavlovich said. "That includes Arabic, Chinese, French, German, Hebrew, Hindi, Hmong, Italian, Japanese, Korean, Oromo, Portuguese, Russian, Somali, Spanish, Thai, and Vietnamese. The Minnesota Department of Education also supports D/Lakota, Hmong, Karen, Ojibwe, Oromo, ASL, and Tamil."

She said there are three groups of students who most benefit from this offering: students who have a passion for world language and are taking advanced placement (AP) or international baccalaureate (IB) language classes; students who have taken world languages, but not as AP or IB classes, but still want to try for the seal or certificate; and students for whom English is their second language, such as those who have immigrated to the country.

"It's just so wonderful to be able to offer something like this," Pavlovich said. "It sends a powerful message of inclusivity, and it showcases the commitment the district has to recognize language diversity as a strength within our community."