Return to Headlines
STEP teacher Steven Yeager earns 'Innovation in Music Education Award' from Slam Academy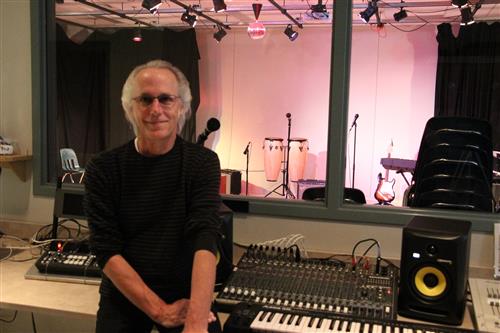 (09/27/19) When a person thinks about the offerings Anoka-Hennepin has in the realm of music, usually it's band, orchestra or choir that comes to mind. But Steven Yeager wants people to know there's much more than meets the eye when it comes to music education.

"Technology," said Yeager, who is the music media technology teacher at the district's Secondary Technical Education Program (STEP). "There's this whole other side to music that kids can explore and blossom in, and it's centered in technology."

Don't misunderstand. Music is Yeager's passion, he said. He's a trained jazz musician and has released three jazz albums of his own. But it's the technology aspect to music creation and production that has really piqued his own interests, and helped draw him to the world of education after spending years working in the music business.

"I've worked in the industry my entire life," he said. "But watching a student blossom and create some really cool-sounding stuff — that's so rewarding."

And what Yeager offers students in his classes is rich. Students learn about music theory and composition, engineering and production, and even the business side of music.

"Ultimately, I try to get kids thinking artistically and creatively," he said. "And it's fun to see kids learn some things they can carry with them for the rest of their lives."

It turns out that Yeager's passion for the technological side of music hasn't gone unnoticed. Earlier this month, Slam Academy, a Twin Cities organization focused on developing the musical potential in children, named Yeager the 2019 recipient of its Innovation in Music Education Award. The award was created to showcase innovative uses of music technology in pre-college education, and Slam Academy believes that educators who effectively embrace such technologies are preparing students for a future not only as musicians, but as technologically-astute citizens.

"We were especially attracted to the program that (Yeager) runs because it is teaching not only music, and not only music technology, but technology itself," said J. Anthony Allen, the co-founder and CEO of Slam Academy. "Whether (his) students go into music professionally or not, they are receiving high quality technology education. Furthermore, by using music technology to deliver this message, he is engaging students on a very high level."

For Yeager, the recognition was unexpected. "Are you kidding — I was delighted when I heard," he said. "It feels great. It's pretty cool."

Jessica Lipa, STEP's director, said she wasn't too surprised Yeager had earned the recognition.

"He is an amazing teacher," she said. "He's so talented and so good with our students — he's kind of the coolest teacher ever. His ability to make fantastic connections with students is impressive."

STEP bills itself as a high school in a college setting where students in grades 11 and 12 can explore hands-on technical and manufacturing careers, such as music media technology, while earning both high school and college credit. It's located on the Anoka Technical College campus, and shares facilities, equipment, and supplies with the college.

For Allen and the folks at Slam Academy, one of the reasons they chose Yeager for the Innovation in Music Education Award is because of the STEP program and what it offers students.

"I would say that this kind of program is very unique in the United States. It is rare to find people who have the skills, the talent, and the drive to deliver this kind of education," Allen said. "To that end, we hope this award is seen as not only an acknowledgment of the great work that (Yeager) is doing, but also the great work the school is doing in supporting this kind of initiative."

And Yeager couldn't agree more. "I'd like to see more places like this — schools like STEP — around the country because I believe in it so much," he said. "I'm glad we're doing it here, and I hope that it keeps growing."