Return to Headlines
Oak View Middle School staff provide former students with scholarships
(10/04/19) Two years ago, Marc Angell and Doug Jones teamed up to create the Oak View Middle School (OVMS) Staff Scholarship, which is given annually to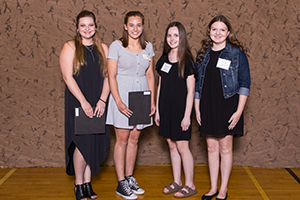 former OVMS students as a part of the Andover High School (AndHS) Community Scholarship program, and the program is starting to take off.

Angell, a life science teacher, and Jones, who teaches sixth-grade Minnesota studies, presented the idea to OVMS administration as a way to provide opportunities to former students at AndHS who are about to embark on post-secondary educational experiences.

Although Angell and Jones said they would prefer the praise goes to the entire staff at OVMS for their support of students, the duo is responsible for a gift that they hope continues to keep on giving back to students for years to come.

"This scholarship isn't about Marc and Doug," Jones said. "It's about the staff members who donate to this scholarship fund. We just happen to send out the emails."

Angell added, "It's about the staff stepping up and wanting to do something for former Oak View students, and rewarding them for their hard work."

Angell and Jones have strong ties to the Andover community, both having children who have graduated from or are attending OVMS and AndHS.

"We see how the community has rewarded people who work hard, and we — the staff at OVMS — think it is important that we can give something back as well," Jones said.

To gauge interest level, Angell and Jones surveyed the staff and after signs of support, decided to give it a go. Angell brought some experience to the table having helped organize a scholarship from Rum River Elementary School in Andover, that has been given out for 12 years.

Like anything new, it took some time to see how this could impact students, and this past May, two AndHS seniors were awarded $600 scholarships from the OVMS staff. To be eligible for the scholarship students must have attended OVMS from sixth through eighth grade. Recipients are selected by AndHS as a part of the Community Scholarship Program.

Now graduates of AndHS, Audrey Gasser and Madison Gustafson received their scholarships last May from two OVMS students who are now ninth-graders, Anna Slavik and Kate Tupy.

"It's fun to read the notes we receive from students who were given scholarships," Angell said. "To hear about their memories from their time at Oak View and the things they are looking forward to, it's a lot of fun."

While they hope the scholarship continues to grow, Angell and Jones are appreciative of the support of the collective staff at OVMS.

"We have a large number of staff who participate," Jones said. "We are thankful for each and every one of them because they are supporting young people in our community."

Angell added, "It's the staff — not just the teachers in the building — it's administration, paras, custodians, secretaries, nutrition staff, everybody. We are very appreciative of their support of the students."