Return to Headlines
District grad, successful clothing designer visits Northdale Middle School to discuss his business with FCS eighth-graders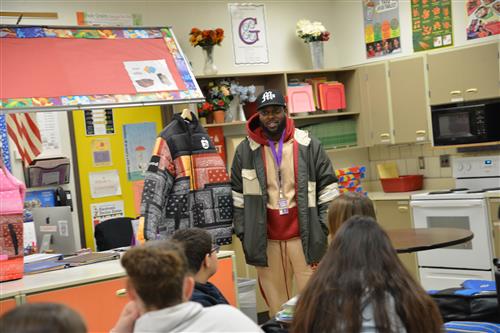 (02/21/20) For Gerald Edwards, telling kids to follow their dreams is more than lip-service. He's a perfect example of how it can work out.

Edwards, a 2011 Champlin Park High School graduate, is the owner of his own successful clothing business, NSOD Clothing, which features collections of men and women's outerwear, t-shirts, hoodies, sweats, and more.

On Feb. 19, Edwards had the chance to share his story with eighth-graders at Northdale Middle School in Coon Rapids. He was invited to the school by family and consumer sciences (FCS) teacher Amanda Herman, who taught him when he was a middle schooler at Jackson Middle School more than a decade ago. See photos from his visit.

"I've always been an entrepreneur and I've always been an artist," he told a group of students during Herman's second-period class. "So that was my foundation."

That artistic foundation included a lot of graphic design self-teaching as a high schooler, specifically on Adobe Illustrator, by watching YouTube videos and practicing. When he became comfortable with his skills, he launched his clothing business. He'd buy 24 T-shirts at a time, sew his own clothing label onto the collars — a skill he learned in Herman's FCS class — and then create a cool design onto the shirts before selling them.

"To launch NSOD, I used $200 I got from my parents after sharing my business plan with them, and then used $100 of my own money," Edwards said. "That's how it all started."

After high school, he went to the University of Wisconsin-Stout and majored in business administration, then participated in a college exchange program where he got to live in Los Angeles for a while.

"I did the exchange program on a whim, but while I was there, I found a factory to help make T-shirts," Edwards said. Now, he relies on contract workers to help with a lot of things he used to try to do himself, like building his website, and managing logistics.

And he's gone from producing batches of 24 T-shirts at a time to selling, in some cases, 200 articles of clothing a day.

NSOD stands for Never Stop on Dreams — a mantra Edwards lives by.

"A lot of the choices you make now will really set the course for the rest of your life," Edwards said. "A lot of what I was doing in high school wasn't considered cool. But I was pursuing what I enjoyed — pursuing my dreams. No dream overpowers another — so follow yours."

Herman said she's proud of Edwards, and invited him to her classroom because his story is inspiring. "He took what he learned in middle and high school, and pursued his passion," she said. "That's powerful."