Return to Headlines
Andover High School wins its first girls hockey title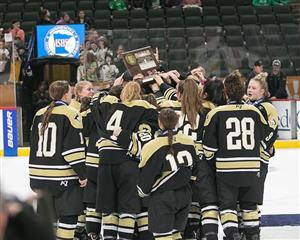 (02/27/20) To win its first ever state title, the Andover High School girls hockey team knew they'd have to beat a giant — the three-time defending champion Hornets from Edina High School.

In front of a large crowd Feb. 22 at Xcel Energy Center in Saint Paul, that's just what they did. The second-seeded Huskies beat top-seed Edina 5-3 in a dramatic, close and exciting game.

"It is just starting to sink in what that means for us," said head coach Melissa Volk about winning. "It is such an honor to represent Minnesota as state champs. I think the biggest takeaway so far for the team is that we had a goal to win a state championship and we accomplished our goal with an unwavering work ethic, team-first attitude, and mental toughness and resiliency this season."

Twice Andover needed to mount a comeback to get back into the game — first erasing a 0-2 deficit early, and then tying the game in the second period after going down 2-3. The game was still tied 3-3 late in the third period, and the match looked destined for overtime until junior Gabby Krause scored with under four minutes remaining. An empty-netter with just seconds left sealed the win, and brought the first-ever girls state title to Andover, which finished the year 28-2.

"This state championship is huge for our community," Volk said. "We have a very supportive community that loves girls hockey so it is very special to be able to share this with people that support us. We have the best girls hockey fans in the state!"

And while winning the state hockey title is amazing for the high school girls who competed and those involved in the varsity program, Volk said it's equally as important for the young girls in Andover's youth program. "We are fortunate to have a very personal relationship with many young girls," she said. "For them to see us win a state championship, and also see all the hard work that goes into it — it's very motivational for our youth girls."

Andover may not be done with hockey titles. The boys team battles Elk River/Zimmerman Feb. 27 for a chance to go to state. At 21-3-1, the boys Husky team is the top-ranked team in the state this year.

To read more, check out a few of the stories chronicling Andover's historic win: