Return to Headlines
Monroe Elementary School - Mathematics, Science and Children's Engineering earns national recognition
(05/22/2020) Monroe Elementary School - Mathematics, Science and Children's Engineering has earned national recognition twice in the last two weeks. Monroe was recently announced as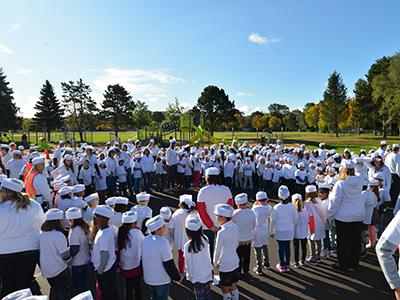 a Project Lead The Way (PLTW) Distinguished School for providing broad access to transformative learning opportunities through PLTW Launch and on May 22, the school received news that it is now the proud owner of a world record in the Guinness Book of World Records.

Earlier this school year Monroe attempted to break the world record for the Largest Human Image of a Cog (or a single gear), which at the time, was 412 participants. On Oct. 14, a total of 654 students and staff members gathered near the playground and formed the image of a cog and held the pose for five minutes. The images were then sent to the Guinness Book of World Records, and on May 22, staff at Monroe were excited to share the great news with students virtually. Watch this CCX News story about the world record attempt.
View the Guinness Book of World Records notification of becoming a world record holder and certificate.

A Science, Technology, Engineering, and Mathematics (STEM) specialty/magnet school, Monroe Elementary encourages students to use creative problem-solving strategies to plan and design new technologies using the Engineering Design Process. Students are also encouraged to work with others to communicate findings and share results in inquiry-based STEM lessons.

Monroe is one of just 404 elementary schools across the nation to receive the honor of being a PLTW Distinguished School. Schools receive this honor for being committed to increasing student access, engagement, and achievement in their PLTW programs. To be eligible, Monroe had to offer at least two PLTW Launch modules at each grade level and have more than 75% of the student body participating during the 208-19 school year.

A team approach at Monroe has helped the school earn national recognition. Kindergarten teacher Alan Durand and third-grade teacher Chelsea Regan have joined principal Amy Oliver, curriculum integrator Kristin Contons and literacy specialist Lisa Silsmer on the team tasked with finding ways to integrate PLTW Launch into core content areas.

"Project Lead the Way continues to provide exposure to STEM careers helping students see the opportunities available to them once they exit the K-12 education system and enter the professional world," Oliver said.

"Our PLTW lessons are the ones that students come into the school year having heard about," Regan said. "Students can't wait to build and test an airplane or design a compound machine to rescue a trapped tiger."

Even during the school closure, Monroe staff continue to implement PLTW Launch into their curriculum during distance learning.

"We knew we needed to find a way to still get students these experiences, so we adapted lessons and helped students innovate based on things they could find around their house. "Teaching these lessons during distance learning ended up lifting the ceiling for their creativity and allowed students to show off their problem-solving skills," Regan said.

Durand has also been delivering PLTW Launch activities for kindergarten students through distance learning.

"One of the most challenging things has been trying to implement lessons that were meant to be hands-on in the classroom into a digital instruction model," Durand said. "We know students might not have access to all of the same materials at home, so we have to reimagine these lessons in a way that's faithful to the spirit of the lesson, and can be made accessible for all of our students."

Contons, Monroe's curriculum integrator, said that teachers at Monroe are using PLTW Launch to provide high-quality lessons in engineering, biomedical and computer sciences.

"Over the last five years, the implementation and integration of these units with other content areas continues to elevate our programming and experiences our students receive," Contons said.

PLTW is a nonprofit organization that serves millions of PreK-12 students and teachers in schools across the United States.