Return to Headlines
3-2-1... Action! Northdale News goes live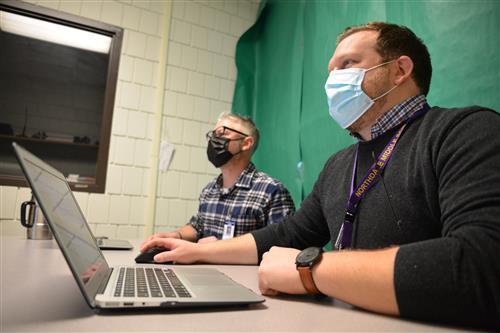 (04/02/2021) There is a new morning routine at Northdale Middle School (NMS). When the bell rings, Northdale News begins. It's a new announcements program hosted by NMS social studies teachers Shaun Felegy and Dave Schreiner. The news program, which streams live on YouTube every school day at bell time, launched in February.
"We wanted to get the students engaged in the announcements, as well as get to meet some of the staff members at NMS," Felegy said. "We had the technology in house, we just had to be innovative with how it was used."
It's an exercise in resourcefulness by the teachers, who launched the show without any expenses. Felegy and Schreiner emptied out a storage room to use as a "studio," gathered equipment found in the building and enlisted the tech skills of math teacher Collin Schultz to direct the show. The teachers plan the day's news in a whirlwind half-hour prep session before the morning bell each day. The program is propelled by the pair's natural humor and charisma.
"We hope the students - and staff - not only learn about the important happenings at NMS, but that we can also help them start their day with a smile," Felegy said. "We gear a lot of the humor toward the staff members, and many of them tell us that they truly enjoy it when they bust out laughing in front of their class and their students have no idea why!"
It turns out the challenges and adjustments made during the pandemic created just the right opportunity for a live show.
"Doing a daily news broadcast was something we had been talking about for a while but the logistical hurdles were quite high," Schreiner explained. "It wasn't until we started experimenting with the livestreaming technology used for distance teaching that the news program began to take shape. We are hopeful that once students can be more involved they will be able to gain some basic video production skills and experience."
Eighth grade student, Lucas Rivard, has already joined the fold, monitoring the production online during taping. They are currently recruiting students and planning for more hands on participation as the process evolves.