Return to Headlines
Building character at Wilson Elementary School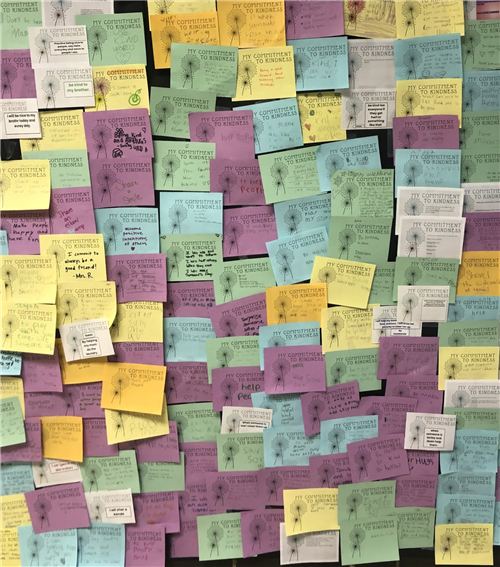 (04/30/2021) Kindness. Gratitude. Perseverance. Courage. Every month at Wilson Elementary School students and staff focus on a character trait of the month. That trait is introduced with a video, celebrated in the hallways and classrooms, and the inspiration for a monthly school-wide activity. In her second year at Wilson, social worker Britt Olean knew this year would be a prime opportunity for character building.
"I knew that coming back during a pandemic, we would definitely need to engage students and build community," Olean said.
With support from Principal Chris Forrest, Wilson purchased the Character Strong education tool kit. The program has made a noticeable impact.
"It's been amazing and we've been able to tie in our distance learners too," Olean said. "It's really been fun, hands on things that students can do to build community and engage in their community and be responsible for their community both at school, outside of school and in their homes."
Students created posters of courageous people in Black history for February, donated 226 pounds of food to practice empathy in March, and celebrated creativity in December with a virtual talent show. In April, students decorated "responsibility rocks" with character traits.
"The idea is that we have a responsibility to our school, community and home to live out this character trait," Olean said. "We will put all of the rocks together and make a "Wilson Rocks" rock garden outside."
Olean won a $3,000 grant from the Education Minnesota Foundation to continue the program next year. She plans to create a rotation of themes and activities that can be used at Wilson for years to come to push students beyond the social skills they learn in the classroom.
"This is more values and character-based where we are instilling in kids what makes well-rounded, contributing, successful adults - and that's the part I really love."