Return to Headlines
Getting to know the new Coon Rapids High School principal, John Peña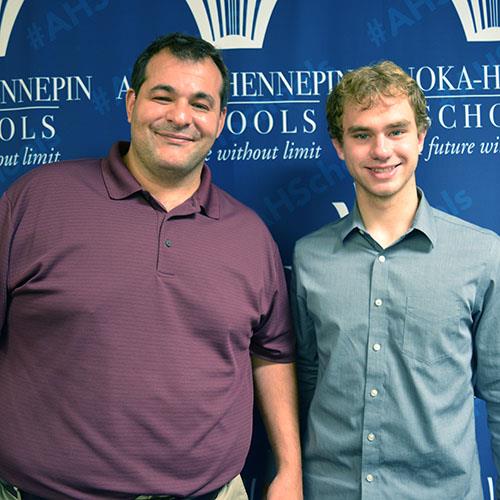 (7/16/21) Peña met with Coon Rapids High School (CRHS) high school senior, Zach Simon, to share insights into his vision for CRHS. Read the first-hand account from Simon.
On Wednesday, July 13, John Peña was named the new principal of Coon Rapids High School, and I was fortunate enough to be one of the first students to speak with him. The first thing that stood out to me about Peña is how focused on building relationships and creating a connective school community he is. His main goal is to be present, and constantly interacting with staff and students. This focus on interaction was prevalent in every answer he gave me, and it is evident that Coon Rapids is gaining a people-person who will quickly build relationships with both staff and students. Peña even proposed a challenge to students: "If they walk by and see me in my office, say, 'Hey, what are you doing in there? Come on out here.'"
Peña grew up in Brooklyn, New York, and moved to Minneapolis when he was twelve years old. He began his career as a Minneapolis Public Schools elementary teacher, and eventually joined the Anoka-Hennepin School District first as an assistant principal intern at Oak View Middle School, and eventually became an assistant principal at Jackson Middle School. In 2011, he transferred to Anoka Middle School for the Arts, where he has been an assistant principal for the past 10 years.
The love for students Peña has is clear, and it is highly evident that it is his priority to make students feel welcomed and cared about. Coming into the new school year, Peña's biggest goal is having a much higher percentage of parents truly believe that their children's teachers care about and believe in them.
He also wants every single student to have a "go-to person" within the building. That looks different for each student, but whether it's a teacher, coach, or even himself, Peña wants each and every student to have somebody that they can go to if they are struggling.
For Peña, this goal of students feeling comfortable and cared about goes hand in hand with increasing student success and becoming more academically competitive. In 2020, the graduation rate of Coon Rapids High School was 88%. As Peña opined, if that other 12% had felt more welcomed, safe and secure, then the graduation rate may have been even higher. Peña also believes that creating a more secure environment will help students lock in and focus on learning, which is paramount to a successful academic career.
Peña himself has a deep background in sports, stemming back to his college days as a two-sport athlete that participated in both football and wrestling. As a wrestler at Augsburg University, Peña helped the team win three national championships. He would later return to Augsburg as an assistant wrestling coach, and won four more national championships.
Peña's sports background has allowed him to see firsthand the immense effect that activities can have on students. Because activities allow for students to find an automatic group of friends with a similar interest, as well as the ability for adults to connect and build relationships with students, Peña is making it a goal to promote all activities throughout the school. He stated, "I am all about celebration. Celebrating the student body, and celebrating all the activities from the arts to music to dance to athletics. I want us to have this expectation of greatness."
At the end of my conversation with Peña, he left me with a closing message for all students and parents of Coon Rapids High School: "My job is to serve the community of Coon Rapids. My job is to serve students, staff, and families. I have an ask for the families: If something is not going your way or if there's something irking you, get a hold of me. Give me a call, stop by, say hi, and we can try to figure things out."
Community members are invited to meet Peña at CRHS on Wednesday, July 21 from 6:30 - 7:30 p.m. Please use the main entrance of the school, located off Northdale Boulevard, if you plan to attend.