Return to Headlines
Franklin Elementary celebrates turning 150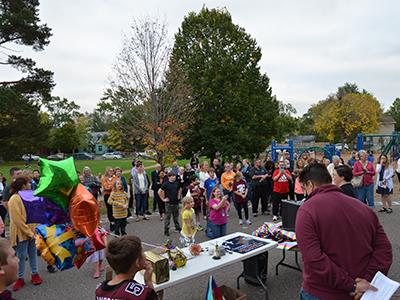 (10/11/2021) - City of Anoka Mayor Phil Rice proclaimed Oct. 7, 2021 as Franklin Elementary Day. The school celebrated its 150th birthday Thursday, with an evening event that featured a couple hundred current and former students, parents, community members, and school and district administrators.
Popcorn and cupcakes were served as children played and people talked about their connection to the historic school. A short program featured current and former teachers and administrators, as well as members from the district and school board. Before allowing visitors to tour the school, a group of Franklin fifth grade students led the crowd in the singing of "Happy Birthday."
The school's official birthday is Oct. 17, as the decision to build Franklin occurred on Oct. 17, 1871, at a town meeting. Enrollment filled the first two completed rooms in 1872 and since then the school has made many additions and upgrades to meet the needs of the community it serves. Today, Franklin is the home base for the Anoka-Hennepin Virtual Academy elementary program.
Franklin would like to thank the Franklin PTO, Cub Foods, Franklin staff and an anonymous donor who came to their aid in the final days.
Click to view a photo gallery from the event and a video of people singing happy birthday.
History of Franklin Elementary
At a town meeting Oct. 17, 1871, it was decided that Franklin was to be built on the west side of the Rum River. Enrollment filled the first two completed rooms in 1872 and the "Anoka Herald" newspaper commonly referred to the students of Franklin as, "the scholars who attend Franklin." By the 1880's, Franklin had two primary departments and an intermediate department. There were four classrooms open by 1885. By 1915, it was determined that Franklin was deficient in lighting, heating and ventilation. A bond was approved for a new brick six-room school. This remains as the center section of the present school. With the post World War II baby boom, the building once again became crowded. The growth of Anoka in the 1950's and 60's rivaled the pace of growth of a hundred years earlier. In 1952, Franklin School opened a new addition on the south end with six classrooms, gymnasium, auditorium, and a space for kindergarten. Another addition to the school on the north side was completed in 1960 with classrooms and a cafeteria. In 2014, an elevator was added and classrooms were built on the north end so that portable classrooms could be retired and more kindergarten rooms would be available.