Return to Headlines
Coon Rapids High School freshmen attend respect retreat
(11/19/2021) Getting back to annual events and traditions at schools across Anoka-Hennepin has been one of the themes of the 2021-22 school year. From football games on Friday nights, plays and music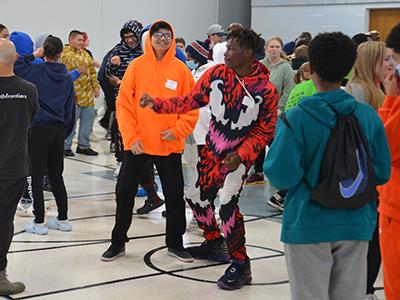 performances, the traditional school year is back.
One of those events missing last year at Coon Rapids High School - Center for Biomedical Sciences and Engineering (CRHS) was the annual freshman respect retreat.
Thanks to a generous donation from the Coon Rapids Rotary Club, CRHS partners with Youth Frontiers for a respect retreat, which is now in its sixth year.
Over the course of three days, Nov. 15-17, CRHS freshmen were able to attend the respect retreat at Riverdale Church in Andover where Youth Frontiers leaders led discussion and activities for students to experience what school would be like if everyone was respected, and to challenge them to respect themselves and others. View photos from the Nov. 17 respect retreat.
During the day, students participated in a variety of small and large group activities to teach them to stand up to the value of respect. They learned how to support their classmates and take action when they see something happen.
"The hope is that by having every freshmen attend this retreat every year, that it eventually helps us (CRHS) build a climate where students not only understand what respect is, but taking action to create a respectful environment within the school," said Sherri Schendzielos, assistant principal at CRHS.
While the event is geared towards freshmen, CRHS Link Crew leaders also attend to participate in the activities and help drive the conversation.
Elmert Robert, a senior and Link Crew leader at CRHS, remembers attending this event as a freshman and relished the opportunity to return to the event as a leader and help his classmates buy into the school motto of being, "One Team."
"Respect, love, and community, and how we can build 'One Team' and one community," Robert said when asked what the message of the day was. "It feels so good to be able to do this event this year. When I was in ninth grade, I had an amazing time. It really changed my perspective on others and I really saw how it changed other people around me and how they became a better person after the retreat. We're just having fun, having a blast."
Eugenia Coleman, participating in the respect retreat for the first time, saw her classmates having a good time and being included.
"Respect has to do with more than just your words," Coleman said. "It has to do with your attitude."
Coleman appreciated the upperclassmen attending the event, to provide some familiar faces, and make the freshmen feel welcome.
"It set the stage to say, 'you're in for a good time'," Coleman said. "I'm grateful for them. It feels so nice to have everyone here."