Return to Headlines
District student achievement advisors serve as an advocate for students in the buildings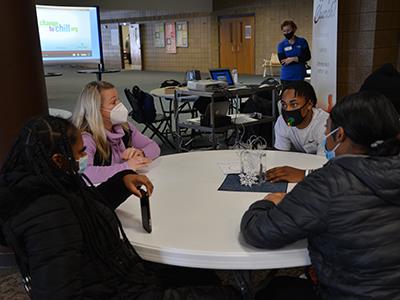 (02/04/2022) Anoka-Hennepin Schools has student achievement advisors (SAA) at all its middle and high schools to help raise student voice and provide opportunities and resources for students to advocate for themselves.
Each SAA brings their own specialty and skill set to their buildings, but the overall expectation is that they spend 80 percent of their time with students. They develop and coordinate peer leadership programming, which include cultural, social and gender groups. They also support students that are in need, who have experienced trauma, are underrepresented and are at-risk.
"A lot of times we try to find platforms for the students to voice their opinions, values and ideas on what's going on in their lives," said Anna Wilken, a SAA at Anoka High School - Center for Science, Technology, Engineering, Arts and Math (AHS). "It's really about their experience in schools that we are trying to help them through. We might not understand everything they are going through, but we can say we are here to support you, advocate for you and give you skills to advocate for yourself."
The SAAs provide guidance and resources to students and help get a feel for the building climate. They also do teacher training on a variety of topics.
"I think a lot of the time the students don't think they are being heard," said Peace Mitchell, SAA at Northdale Middle School. "We are the people in the building that are supportive and an advocate for the students. As adults, we sometimes don't always listen to kids and they have a lot of wisdom. They love it when you listen to them and validate them. A crucial part of my job is to do what is the best for the students and speak for them and the families."
On Jan. 27, the SAAs from each building joined together to provide about 100 students from six high schools in the district a chance to come together for the annual High School Forum. This year's focus was providing the students with the opportunity to talk about what their stressors are and to learn the skills to cope with that stress in a healthy way.
Wilken and Tatiana Pham, SAA at Roosevelt Middle School, were the organizers this year and they utilized the already existing partnership with Allina Health's Change to Chill program. The forum, which replaced the traditional school day, facilitated discussion and activities, both in large group and small group settings, on how to improve mental health.
In small group settings the students rotated through five different 'Chill Zones' where they focused on certain tools, like coping strategies, meditation and positive imagery, breathing exercises, mental remixing, and how to help control how to respond to things.
Change to Chill helps teens become more aware of the things that stress them out and equips them with relevant tools and resources to better manage stress and anxiety, so they can live happier, more resilient lives.
A group of AHS Students commented about what they learned from the High School Forum:
Kaylah Smith, senior: "We all have stress and sometimes we don't know how to manage that stress. Today we learned how to manage that. I also learned how to be grateful for everything I have because not everyone has the same opportunities."
Malu Johnson, senior: "Today I learned how to be mindful of my environment and how to be mindful of myself when I'm stressed to calm myself down, which is very helpful and everyone needs it."
Emmanuel Orina, senior: "We all have similar problems in this world and today we took away how to deal with stress, how to cope with it and how to move on in life."
Mary Keleekai, senior: "In life you have a lot to be grateful for, but we tend not to pay attention to those things because we focus on the negatives, the things that could be and the things that could happen in the future. So I learned to be grateful for the things that I do have and to live in the now because you don't know when you are going to get that moment again."